This week marked the end of an era when one of Donegal's best-known tour guides retired from her role.
Mary Friel has been a beacon of knowledge and fun at the Glebe House and Gallery for many years (we're not allowed to say how many!)
Friends and colleagues toasted Mary for her professionalism but also her sense of fun and enjoyment she brought to house which is one of Donegal's most popular tourist attractions.
A spokesperson for the gallery and house said "Mary is one of the most creative, talented, kindest and funniest people you could meet. She has a heart of gold and her love of art and people shone through every day.
"We wish Mary a very Happy Retirement and we know she will enjoy every single moment… thank you Mary for everything and we look forward to hearing all about your adventures."
And just so Mary doesn't think she is leaving with the upper hand, colleagues suggested the public ask Mary one question if they see her out and about.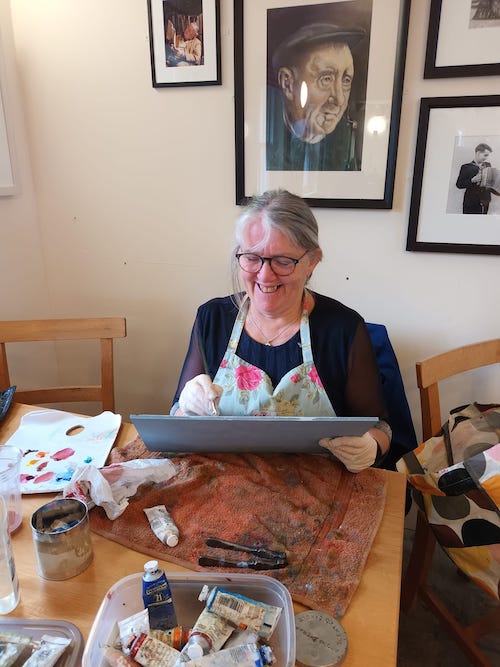 "If you see Mary out and about, say hello and ask her to tell you the story about the time she she thought RTE news was on her tour of the Glebe House?
"Mary you are a legend and we will all miss you very much."
Here's what one couple had to say about Mary after the completed a tour of the house with Mary in 2019!
"My husband and I had a fabulous tour of this unique house bursting with paintings, wonderful furniture, fabrics and many other collector's items. It was such an opportunity to view this collection. Our tour guide Mary Friel was absolutely fabulous. Her knowledge of the house was beyond anything I have experienced on such tours. The highlight was her knowledge and description of the art work. She was inspirational and her enthusiasm was infectious. Her knowledge and detail of the paintings is mind blowing. One tour of this house even with Mary's seemingly endless information is not enough to digest and fully appreciate this collection. To have a house with a collection as this in rural Donegal is unbelievable. I am already looking forward to my next tour."