Ahead of Donegal ETB's Further Education and Training (FET) Fair on 23 and 24 November in the Radisson Blu Hotel in Letterkenny, we're showcasing the experiences of previous students who have completed courses with the ETB's FET Service.
---
Joel Bradley Walsh is well on his way to his dream job of PE teaching after choosing to study close to home.
The Donegal footballer is in his final year of a Batchelor of Science Sports and Exercise with Physical Education degree at ATU Donegal.
Prior to this, a 'fast year' of Post Leaving Certificate (PLC) studies turned out to be one of the most beneficial years of all for the Ballybofey student. 
Joel completed a PLC course in Sports, Recreation and Exercise with Donegal ETB's Further Education and Training (FET) Service in 2019. He studied at Finn Valley College and it was there where he first learned the practice of coaching. When he progressed into college, he felt he was a step ahead.
"The PLC was only one year but I went into college with so much more experience," Joel said.
PLC courses are designed for students who have completed their Leaving Certificate and want an extra year to study a specific vocational area. Adults returning to education can also take part and it's an ideal way to upskill and get back into learning.
For Joel, it was a year to get experience and skills to be ready for third-level.
He had his mind made up about the PLC when he was doing his Junior Certificate at St Columba's College. He was either going to do Transition Year or a year after the Leaving Certificate, and he opted for a more focused year of practical experience after his Leaving Certificate.
"I felt I was a bit young to start college," he said. "You don't want to go into college second doubting it, you want to be ready so if you have any doubts, a PLC course is perfect. It's a very fast year. I used my time at home to get my driver's licence, keep my part-time job and save up to go to college."
Modules on the programme include nutrition, fitness, communications and soccer, Gaelic and basketball coaching. Classes are delivered three days per week and there is a half day of work experience, which Joel used to practice PE teaching at his former primary school in Stranorlar.
Joel found that the modules gave a great background in coaching for all abilities.
"It was great learning how to deliver coaching for all different children. Some children are elite and some are not into sport at all, but we learned how to adapt PE classes to their experience. There were a lot of sports modules but I enjoyed the coaching and teaching practice, because I was learning how to teach from actual PE teachers. So when I went into LYIT (now ATU Donegal) I felt I was a bit ahead."
The PLC programme isn't just a support for future PE teachers like Joel. Some of his classmates gained lifeguarding qualifications during the year and now work in the Finn Valley Centre. Others took an interest in gym work and went on to become qualified personal trainers.
Even though they are taught in a school setting in Donegal, PLC courses follow a more college-themed learning style with a mix of practical work, academic work and work experience.
Joel says: "The Leaving Certificate is all about books, but here I was getting a qualification doing a lot of practical things, so it was right up my street. It's another shot at the Leaving Cert too for people. With the QQI Level 5, ATU Donegal holds places for PLC students to get into courses [through the Higher Education Links Scheme]."
Joel also used this PLC year to "get serious" about his sport, he said. The Sean MacCumhaills full-forward had been on the books of Finn Harps and got support from Finn Valley College to apply for a Gaelic scholarship. He was delighted to make it into the New Entrant Sports Scholarship programme at ATU Donegal and join the Sigerson team.
Now in his final year of the Bachelor of Science degree, Joel is keeping busy with assignments, training and enjoying working with different schools and disciplines. He also kept up his link with Finn Valley College and is a substitute teacher at the school as he continues working towards his goal of full-time teaching.
The PLC course completed by Joel is one of eleven PLC courses offered by Donegal ETB's FET Service in three locations (Killybegs, Letterkenny and Stranorlar); Donegal ETB's PLC students have the highest progression rate to third level out of all PLC providers in the country. You'll find their full range of courses across the county on their website, where you can also apply online at any time: www.donegaletb.ie/fetcoursefinder. 
Donegal ETB's 2022 FET Fair takes place on 23 and 24 November in the Radisson Blu Hotel in Letterkenny:
Wednesday 23 November, 7.00-9.00pm: School leavers, their parents/guardians, Guidance Counsellors and school Principals and Deputies are invited to hear about FET options across the county. Those currently in employment and seeking to upskill are also invited to hear about upskilling opportunities offered by the FET Service.
Thursday 24 November, 10.00am-2.00pm: Those who would like information on the wide range of full and part-time education and training opportunities provided by the ETB's FET Service are invited to come along to speak to staff to find out more.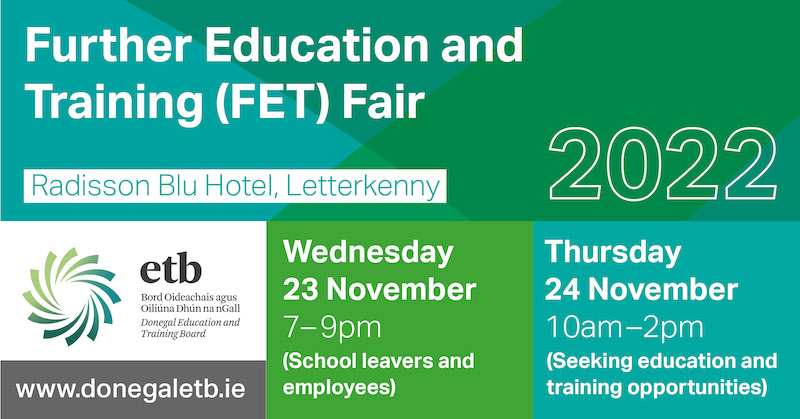 Keep an eye on their social media accounts (Facebook, Twitter, Instagram and LinkedIn) for updates and further details or contact the ETB's Adult Guidance and Information Service on 074 91 78088, email adultguidance@donegaletb.ie or complete this web form and they'll get back to you https://www.donegaletb.ie/further-education-training/adult-guidance/.