Donegal Daily can exclusively reveal that former James Bond actor, Pierce Brosnan, is to star in the latest feature film to be shot in the county.
The Donegal Film Office this week issued a crew call for the multi-million euro movie adaption of 'Four Letters of Love' which will begin shooting in the Dungloe area in February.
Hollywood A-lister Brosnan will spend a number of weeks in Donegal during the shooting of scenes here.
Based on the novel of the same name by Niall Williams, the film is about a 'lyrical love story' set in Dublin and on an island off the west coast of Ireland.
The director of the film, Penny Steele, posted on her website confirming the stellar cast will include none other than the former Bond star.
"Steele is set to direct this beautiful screenplay which has attracted a stellar cast, including Pierce Brosnan," her website stated.
Brosnan (69) is world-famous and starred in FOUR separate Bond films – GoldenEye (1995), Tomorrow Never Dies (1997), The World Is Not Enough (1999), and Die Another Day (2002).
The production will be filmed in both west Donegal and in the North.
The county is fast becoming a top location for filmmakers, thanks to the handful of dedicated staff at Donegal County Council's Film Office.
'Four Letters of Love' is following hot on the heels of Star Wars which was filmed in Inishowen in 2017, God's Creatures starring Paul Mescal (2021) and In The Land of Saints and Sinners (Liam Neeson) which was shot in south west Donegal earlier this year.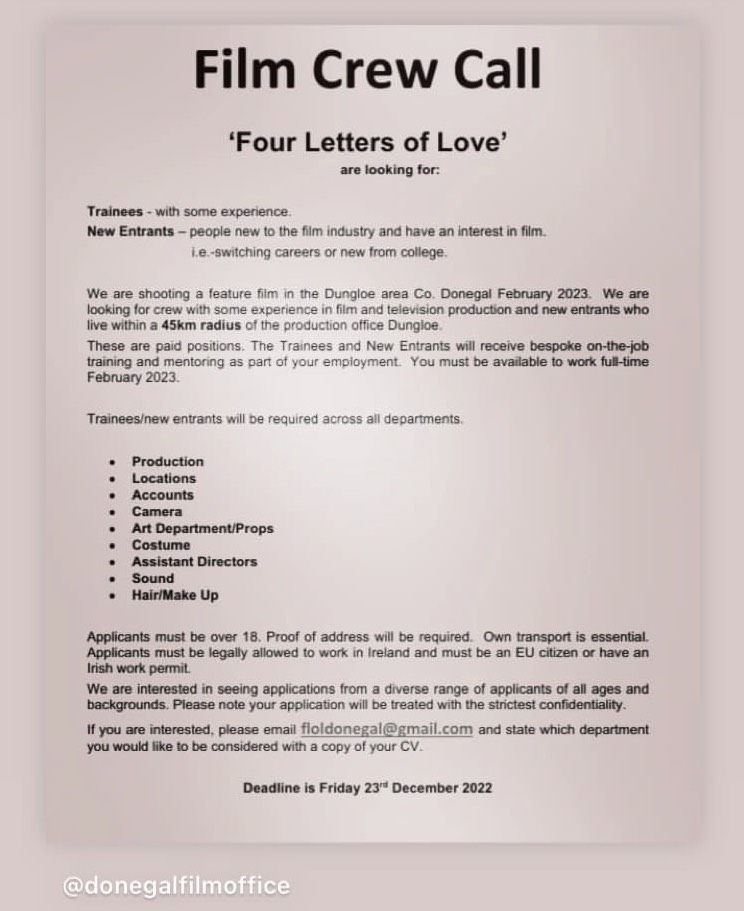 Only yesterday, the Film Office put out a crew call for the film which is due to begin shooting in February.
"We are looking for crew with some experience in film and television production and new entrants who live within 45k of Dungloe," their Instagram post read.
These are paid positions and include production, locations, camera and hair and makeup.
For further information, email flolDonegal@gmail.com
Tags: