A disappointing but determined crowd gathered today to protest at overcrowding at Letterkenny University Hospital this afternoon.
The Co Donegal hospital is one of the worst-hit in the country with regular overcrowding at its Accident and Emergency unit each week.
Despite lingering snow and ice from earlier in the week, an estimated crowd of over 200 people gathered in freezing conditions close to the hospital at Kilmcacrennan Road at 1pm today to show their support.
The protest was organised by the Letterkenny Hospital Campaign.
It was one of an estimated 17 such protests taking place nationwwide against overcrowding and waiting times at hospitals.
Organisers had asked the public to spare just an hour to support the campaign and to call for improvements at the hospital.
However, some speakers did express their disappointment at the turn-out despite the vocal response from those who did gather.
Many held placards with slogans reading 'Overcrowding is costing lives', 'Our health care system is broken' and 'Time for action That Time is now.'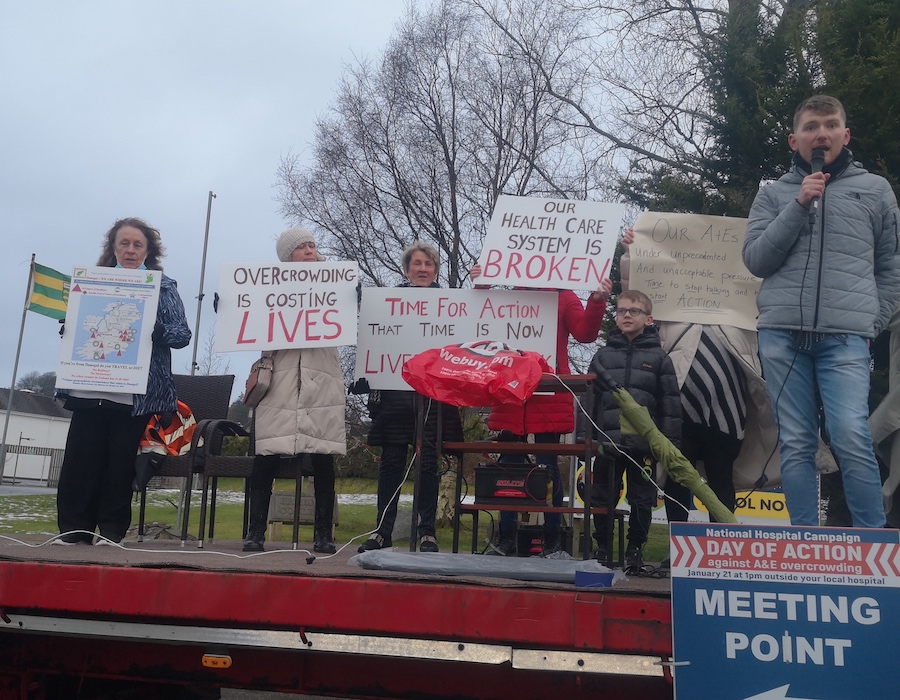 Spokesperson for the group, Mary T Sweeney, said there were different facets to the problem of overcrowding locally and nationally.
"There is a management problem locally and there is a national problem. But we need talking. Management needs to engage with the nurses, doctors and the consultants to see how exactly we can resolve this issue.
"We need people to sit down and talk to each to address the problems because it is obvious that the system we have in place is simply not working."
Lifford man Paul McDaid told how he attended the Accident and Emergency Unit at the hospital six months ago with his son who had a fractured arm.
"We waited in casualty for seventeen hours to be seen. I am not having a go at the staff because they were terrific but the system is broken.
"But when a child is is horrific pain and has to wait almost a day to be treated then there is something drastically wrong with our healthcare system and with our country in general," he said.
There were many other similar first-hand experiences of those waiting for hours ion end to be treated.
Chairperson of Donegal Action for Cancer Care, Betty Holmes, spoke directly to men gathered at the protest.
She asked them "Do you want to have to travel to Galway or Dublin for prostate cancer treatment? That's what you are facing because cancer services are being downgraded here.
"There is a line from Dublin to Galway and if you are below that line then you cannot get cancer treatment locally."
Local councillor and Chairperson of the Western Regional Health Forum, Gerry McMonagle said the reality is that there are less acute beds in our hospitals today than there was in 2006.
Trainee nurse Lúcas Meehan said the lack of doctors was also an issue locally and suggested that nurses should be given more power to assist patients.
"They are not addressing the single biggest issue that is going on in A&E, there is no doctors.Instead of looking for doctors they should be giving nurses the courses to give them prescribing rights to ensure that patients rights are hurried along and to ensure that patients are seen to and that they are not sitting in a bed struggling.
"They (the nurses) can't prescribe anything and it's a joke. There is no real common sense thinking. These courses are there. Nurses can do courses that can give them prescribing, referral and diagnosis rights," he said.
Amongst those who also attended the protest was Donegal TD, Deputy Padraig Mac Lochlainn and a number of local county councillors including Ciaran Brogan, Patrick McGowan, Donal Coyle, Donal Kelly, Kevin Bradley, Niamh Kennedy and Gerry Crawford.
A minute's silence was also held for all those who died directly or indirectly as a result of overcrowding at Letterkenny University Hospital.
Organisers also promised further protests and laid out plans to form a Hospital Action Committee.