Donegal Daily's Pet Column is brought to you by Gary's Pet World, Letterkenny Retail Park.
For all your pet food, health, accessories and toy needs, call instore or visit www.petworld.ie. Free shipping on orders over €29

---
Spring has truly sprung! Michelle Kelly, a veterinary nurse from Letterkenny, is here to explain the hidden dangers in our homes and gardens that could harm your furry friends: 
Although spring is a lovely time of the year, with the flowers starting to bloom, lambs being born and Easter just around the corner, we need to remember to keep our furry friends safe. 
In the garden 
Planting and picking flowers can be fun for the family and is hard to resist. Who doesn't want a bright and colourful home? Some plants and even their bulbs can make pets quite sick so it is a good idea to consider this. Some examples are: Lilies (their flower, the stem and even  the water can be fatal especially for cats), daffodils, bluebells, tulips and poinsettia. If you think your pet has ingested any part of a plant, note what one it is and get in contact with your vet straight away as they may require treatment. Fortunately most cases are not serious but be aware that some are more harmful than others. 
Insecticides, pesticides and other outdoor chemicals used in the garden or on the street can be harmful to pets. If they are being used, try to section off the area to prevent contact as they could cause chemical burns, illness and be fatal. Poisons for pests should also be stored where they cannot be reached by pets. 
Bees and wasps are beginning to re-emerge. Inquisitive pets are likely to get stung if they try to chase them. Sometimes the sting can cause an allergic reaction which can present as excessive swelling, heavy panting, struggling to breathe and weakness. This needs immediate treatment and the pet should be taken straight to the vet. 
Out and about 
As the weather improves it can be tempting to get out and about in nature and the countryside. 
Keep pets secured in vehicles either in a crate or in a harness secured with a seatbelt, otherwise they can become a distraction or cause injury to the driver, passengers and themselves.  
See the latest Dog travel products on PetWorld.ie here: https://www.petworld.ie/product-category/dog/dog-travel/
Be responsible when you are out with your dog, especially around livestock. Spring is when lambs, calves and loads of other babies are born and although they are cute to look at, some dogs tend to see them as a toy or something to chase. Dogs should be kept under control (on a lead) around livestock at all times. Do not let your dog into fields where there is grazing livestock, it could harm the animals and also get injured itself. If a dog causes any injury or damage to livestock, the dog owner can be held liable. 
Keeping dogs on leads in general is safer, especially in busy areas like parks, and is sometimes a requirement in particular public places. Some other dogs are not always friendly and may not appreciate off-lead dogs coming up to them. This can result in dogs getting attacked and hurt which can be very traumatic for all involved. Some people are also afraid of dogs and may not appreciate them running around them or jumping on them. Teaching dogs a good recall and to stay by your side if they are not on a lead is important to prevent this from happening. 
Shop Dog leads and collars here: https://www.petworld.ie/product-category/dog/dog-leads-and-collars/
It is a legal requirement to have dogs microchipped and also have a licence for them. The microchip is implanted under their skin, usually between their shoulder blades and when it is scanned it contains the owner's details which is useful if they wander off or go missing while
out on walks. Although it is not a legal requirement for cats, microchipping is a good idea to help prevent them from going missing too. 
Easter decorations 
Curious pets sometimes eat things that they shouldn't. By chewing on artificial grass, hay or other decorations, they may experience gastric upsets and obstructions, causing them to become very poorly and sometimes require surgery! Plastic bags should be kept away too as they can be a suffocation hazard. 
Cleaning 
With some spring cleaning getting underway, the chemicals can be harmful to pets if ingested or if they come in contact with their skin. Keep detergents and bleaches out of reach. It may be a good idea to keep them in a separate room or outside while you clean to ensure they do not get their paws or nose into anything dangerous. 
Cleaning pet beds and toys with pet friendly detergents is a good idea to keep bacteria at bay. 
Make sure that any candles, diffusers and air fresheners are safe for use in the home around pets. 
Food 
Chocolate, sweets and other treats can be super tasty but if eaten, can make some animals quite sick. Make sure that when you are planning for Easter, everything is kept out of reach of paws. 
Food which can cause the biggest problems at this time of year include:
Chocolate (contains theobromine and sometimes palm oil) 

Xylitol (found in sugar free treats eg. chewing gum, baked goods and peanut butter) ● Palm oil (found in white chocolate, some milk chocolate, cakes, biscuits, peanut butter) 

Caffeine (in chocolate and cakes) 

Salt 

Mouldy food (if they get into the bin) 

Alcohol 

Bones (can cause splinters in the oesophagus and intestines or get lodged and need surgically removed) 

Rawhide (can get lodged in the intestines and need surgically removed) 
There are now pet-friendly easter eggs, peanut butter and treats which you can buy from pet shops such as PetWorld.ie which are made with pet-safe ingredients and are equally as delicious for our furry friends. 
If you think your pet has eaten something they shouldn't have, please contact your vet immediately. 
Preventative healthcare 
Keeping pets up to date with their yearly vaccinations can prevent them getting sick from contagious diseases which they can pick up when in contact with other pets and wild animals or in areas where they can be easily spread.
Parasite treatments are recommended throughout the year to prevent the spread of worms, fleas, ticks and other mites. They can carry diseases which can be harmful to pets and even us humans too! 
Browse protective medication and sprays for animals on www.petworld.ie
Have fun! 
Springtime means longer days and better weather so make the most of it, just be safe!
---
Michelle Kelly qualified with a BSc Honours in Veterinary Nursing from LYIT. She works full-time in a clinic in Derry. She is the proud owner of a labrador named Nala, who goes everywhere with her, even to work. 
As a dog owner in the North West, Michelle says she sees a lot of misunderstanding around owning a pet. With her first hand experience in a veterinary practice, she wants to give up-to-date facts and information to pet owners and to be a person people can turn to for help and advice, especially in the local area of Donegal.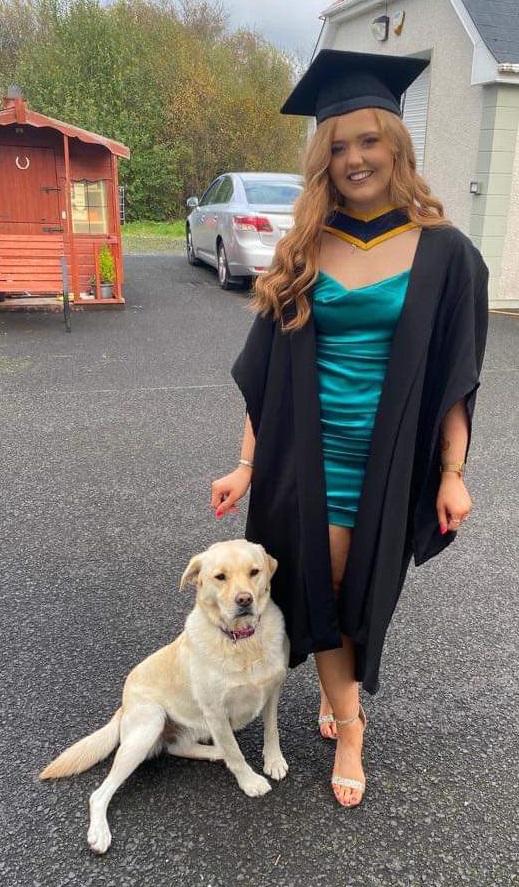 Tags: