Donegal Daily's Pet Column is brought to you by veterinary nurse Michelle Kelly in association with Gary's Pet World, Letterkenny Retail Park.
For all your pet food, health, accessories and toy needs, call instore or visit www.petworld.ie. Free shipping on orders over €29

---
After the UK announced the impending ban on XL Bully type dogs, I have decided to write an article surrounding the importance of muzzle training your dog.
The reason for this is that I have worked in veterinary practice for a few years now and have realised that even the most gentle and timid dog can become stressed or feel pain to the point where they have the potential to bite. Dogs can't tell us to leave them alone so they need a way of communicating and some resort to using their teeth for this purpose.
A muzzled dog may look intimidating, especially if you don't know why they are wearing one. Muzzles tend to be seen in a negative context but if used correctly they are actually an amazing tool. They have more uses than just for 'aggressive dogs' who are a bite risk. 
The main reasons why we might use a muzzle are:
If the dog is a bite risk to a person

If the dog is a bite risk to another dog

If the dog tends to scavenge on walks 

In an emergency (injured/frightened dogs are more likely to bite even if they never would at other times)

Restricted breeds MUST legally be muzzled while in public at all times in the Republic of Ireland, including in the car (these breeds include: Japanese Tosa, American Pitbull Terrier, Rottweiler, Rhodesian Ridgeback, Staffordshire Bull Terrier, English Bull Terrier, Dobermann, BullMastiff and the German Shepherd Dog)
The idea of putting a muzzle on your dog may be nerve-wracking because there is the worry that they might be uncomfortable. Are they able to breathe properly? How will they eat and drink? Is it painful for them? A well fitted muzzle allows dogs to do all of these things. They should be able to open their mouth and pant, and you should be able to feed them treats through the gaps. 
All dogs can wear a muzzle and this includes brachycephalic breeds (Flat faced) such as pugs, french bulldogs, boxers etc.
Types of Muzzles
Soft muzzle – Made of nylon or mesh these are designed to keep the dog's mouth closed. They should not be used for prolonged periods of time because they do not allow the dog to perform normal behaviours such as panting, which is the human equivalent of sweating, eating, drinking and barking. If the dog cannot eat, this muzzle cannot be used when training using rewards.
Basket muzzle – They may look inhumane due to the 'prison bars' image they may portray but they are a much better choice. If fitted correctly, they allow the dog to eat, drink, pant and bark.
Homemade muzzle – Only in an emergency should a homemade muzzle be used, when there isn't a proper muzzle available. Useful material which can be used is a roll of gauze or possibly a dog lead. A better idea is to keep a muzzle in your dog's first aid box in the car. 
How to introduce a muzzle to your dog
The first time your dog sees or has to wear a muzzle should not be in a stressful situation where they are not expecting it. This can cause a fear or aversion to them, making it much more difficult to condition them to wearing one in the future.
Training a dog to accept a muzzle allows them to positively associate with them.
Introducing the muzzle will take several days so be patient.
Step 1: Hold the muzzle out and allow your dog to sniff and investigate it. Give plenty of treats and repeat until they are comfortable with it.
Step 2: Place a treat in the palm of your hand and cup the muzzle in your hand so the dog places their nose inside for the treat. They may be reluctant to put their nose in the muzzle initially so plenty of patience and praise during this step. Keep repeating for a day or 2 until they comfortably place their nose into the muzzle. 
Step 3: Place the muzzle on the dog and hold for a few seconds (Don't close it yet). Give a treat as soon as you remove it. Keep repeating this until your dog is comfortable with you placing the muzzle on them.
Step 4: Place the muzzle on the dog and fasten the buckle. You can give some treats through the muzzle if possible. Wait a few seconds and remove it. Repeat until the dog is comfortable wearing the muzzle for longer periods of time.
Step 5: When the dog is comfortable wearing the muzzle in the home, you should bring them out to more distracting places and practice. This makes it more likely for them to accept one in all situations. 
Don't put too much pressure on you and your dog. These things take time and patience but the sooner you start, the better.
Correct fit
If the muzzle is too loose, the dog will be able to get it off or it can damage their eyes.
If the muzzle is too tight, It will inhibit the dog's ability to breathe, pant, drink, bark and eat. It can also damage their skin which can cut them and be painful.
You should be able to fit one finger between the dog's skin and the strap. 
A dog trainer or your vet will be able to assist you in making sure it is a correct fit. 
If ordering online, accurate measurements should be taken. You can get custom made muzzles for dogs too. 
Remember…
Muzzles are a preventative measure, they do not fix the problem (chewing things, aggression etc) They should be used alongside a structured training plan.
Muzzles should not be left on a dog when unsupervised.
Muzzles which hold the mouth shut should NOT be used for prolonged periods of time.
For all your pet food, supplements and treats, visit www.petworld.ie or call into Gary's Pet World Letterkenny.
---
Michelle Kelly qualified with a BSc Honours in Veterinary Nursing from LYIT. She works full-time in a clinic in Derry. She is the proud owner of a labrador named Nala, who goes everywhere with her, even to work. 
As a dog owner in the North West, Michelle says she sees a lot of misunderstanding around owning a pet. With her first hand experience in a veterinary practice, she wants to give up-to-date facts and information to pet owners and to be a person people can turn to for help and advice, especially in the local area of Donegal.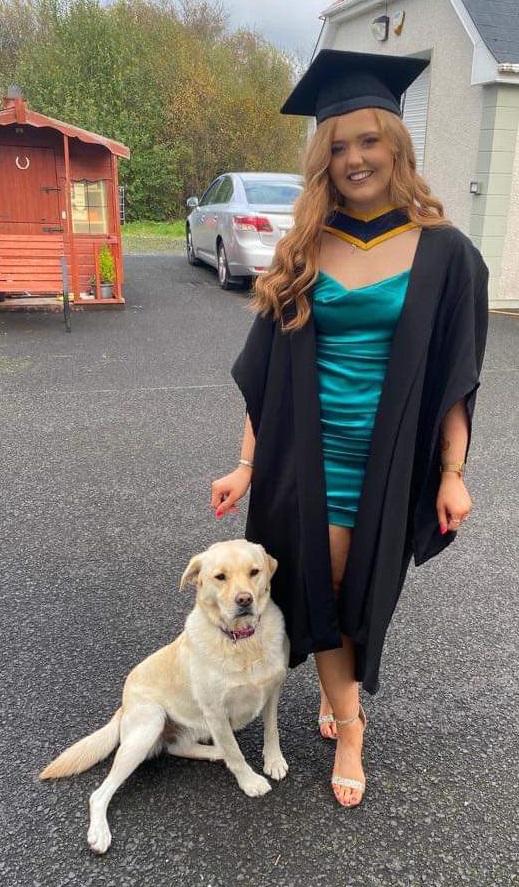 Tags: