This week's club notes from Rosses AC:
On a warm day in the German capital, the 49th running of the world-famous marathon major, the Berlin Marathon, took place. It was a real family affair as Rosses' Helen McCready and her brother Ciaran Doherty of LAC both did themselves and their clubs proud.
Helen crossed the finish line in 2:57, and Ciarán finished in 2:34 after months of dedication, sacrifice, and hard work.
Closer to home, last Sunday saw the start of the cross country season for adults with the county masters at Finn Valley. The Rosses ladies got the day off to a flying start with Bernie Boyle leading the Rosses ladies for the greater part of the race. However, Fionnuala Diver's vast experience stood her in good stead, and she got up to take silver, with Bernie earning a well-deserved bronze in her first-ever XC race. Claire O'Donnell finished in a brilliant 4th, Selina O'Donnell finished 6th, and Lorraine Doherty 13th to secure the gold medal-winning F35 team. Emer Magee finished a fantastic 5th overall and took the F50 crown with Cathy Breslin 12th overall and Angela Trimble 16th, ensuring the three ladies took the F50 team gold backed up by Lorraine Doherty and Angela Trimble.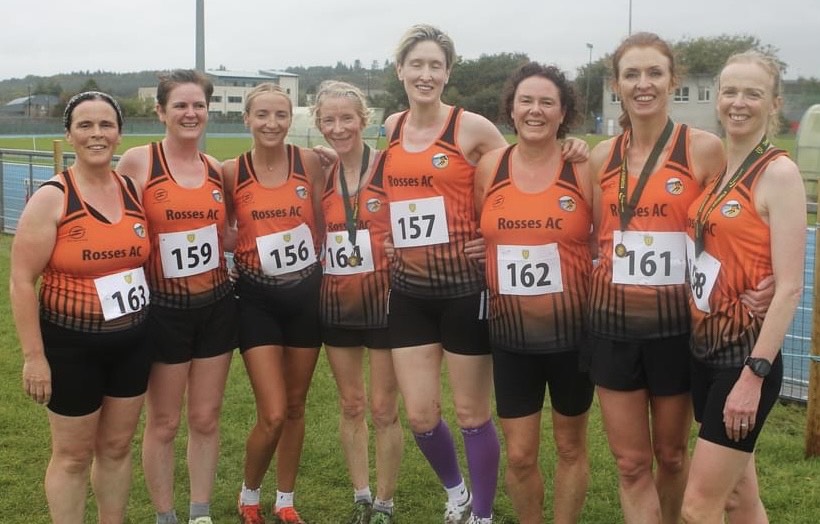 The men's race saw Charlie O'Donnell run a really strong race to take individual silver.
Not long back from injury, Manus McHugh had a great run for 6th, followed by Patrick Trimble who finished 9th and took M50 bronze, with Michael Logue finishing 15th to complete the silver medal-winning M35 team. Michael O'Donnell travelled to compete for Rosses and had a great fun finishing 16th.
Elsewhere, the 7 sisters skyline mountain race took place on Saturday with a 30km race and 50K race.
In the 30k race, Eoin Boyle kept up his stellar season across the terrains with a brilliant 15th place finish, and the young and determined Cormac Hall finished in 18th. In the 50km race, the first Rosses man back was the endurance specialist Declan Gallagher, finishing in just under 9 hours in 10th place. Friend and training partner Paul McKelvey also had a great result, finishing in 19th place.
Please note that juvenile athletic training continues Mondays and Thursdays at Carrickfinn.
High jump training has resumed in the Gym in Dungloe on a Tuesday evening, and anybody wishing to start or join in, please contact Kathleen McGonagle.
This weekend sees the Juvenile even age county championships and adults' novice county championships taking place on Sunday in Carndonagh.