Two men are to walk across ten islands off the coast of Donegal in just one day for charity.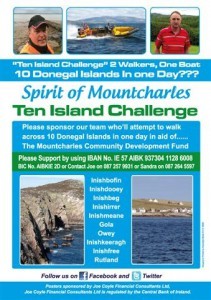 Brave Joe Coyle and John McGrory are to undertake the challenge across Inishdooey, Inishbeg, Inishirrer, Inishmeane, Gola, Owey, Inishkeeragh, Inishfree and ending on Rutland Island.
The two men will be supported at sea between their island-hopping marathon by Eamonn O'Donnell and his RIB Discovery.
The two men, who are both from Mountcharles, plan to raise as much money as possible for the local Community Development Fund.
Plans are in place to set up three small museums in the village with each displaying the rich heritage of Mountcharles.
These include embroidery, stonemasonry and literature while a tourist centre, a children's playground, a skate park and a café are also part of the regeneration of the area.
The island-hop will start at dawn on September 3rd and finish at dusk that evening.
A spokesman for the 10 Islands Challenge said the entire village is behind the two men in their challenge.
"The financial mess and its fall-out this country is currently facing may not be of our doing but we are jointly responsible to turn the tide, not just for us but for our children and our children's children.
"The people of Mountcharles, County Donegal firmly believe that the economic recovery of Ireland as a whole starts with little steps in villages like theirs.
"Joe Coyle and John McGroary are taking the first positive step towards a better future for us all. They have the full support of Mountcharles village behind them while they bravely take on their 10 Islands Challenge," he said.
Ends
Tags: