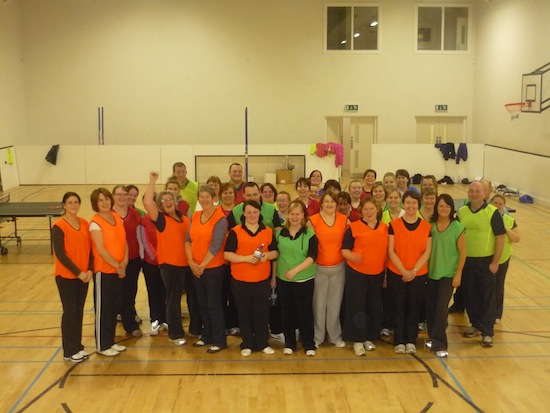 The Termon's Operation Transformation 5k Run will be held in Termon on Sunday the 11th March 2012 , starting at 12.30pm From Craoibhín Community & Enterprise Centre, Currin, Termon.
The event is organised by Craoibhín Community & Enterprise Centre in conjunction with their Termons Operation Transformation.
The event will be accurately timed and a digital clock at the finish will allow you to check your performance. This 5km Fun Run is open to walkers, joggers and runners. To Coincide with the Run there is also a 6k Walk on the same day.
This event is €5 for adults to enter and U18's are free, however you must register at the centre on the day to take part, proceeds of the day will go to Craoibhín Community Centre.
A 70 strong group of people came together in Mid January to begin training for this 5k run & 6k walk. They registered with Termons Operation Transformation and have been training two evenings a week since with Craoibhin Gym Instructor Dermot Kelly and Local Volunteer Nicola Doherty.
The group had various aims at the start of the programme including some participants wishing to lose weight which is forecasted to reach 25 stone, others had aims to become more active and a group of people also wanted to be able to complete a 5k race like the participants on RTE's Operation Transformation.
The Group from Craoibhín got a mention the RTE programme at the end of January. We are hoping that the whole community will come out on Sunday afternoon to support all our participants and take part in the activities themselves. Refreshments will be served in Craoibhín hall after the race.
Craoibhín would like to thank all the participants who have taken part in Phase 1 of Termons Operation Transformation, To Karen Mc Glinchey From Slim r Us who has kindly weighed the participants on Thursday evenings , Dermot Kelly Fitness Instructor & Nicola Doherty a local volunteer who has kept us all going similar to the army sergeants on the Programme!!!!
We hope to launch a phase 2 of Termon's Operation Transformation after St Patrick's Weekend! So if you are interested in taking part please contact us details below.
Mary Mc Grenra, Centre Manager, Craoibhin Community & Enterprise Centre, Currin, Termon, Letterkenny, Co Donegal
T: 074 91 19988- 086 8437407 E: info@craoibhintermon.ie W: www.craoibhintermon.town.ie follow us on Facebook also
Pictured at the launch below today:
L-R
Bridin Doherty – Donegal Athletics
James Boyle – Organiser
Joe Mc Daid – Termons Operation Transformation
Patsy Mc Gonagle- Ireland Olymip Athletics Team Coach
Mary Mc Grenra- Craoibhín Manager
Hugh Martin – Finn Valley AC
Grace Boyle – Organiser
Patsy Doherty- Donegal Athletics
Nicola Doherty- Volunteer at Craoibhín (Fitness Coach for Operation Transformation)
Sitting
Mattie, Michael & Sarah Trearty.
Tags: