Bobby Gallagher from Mountcharles was awe-struck when Ryan Tubridy brought out his dream car on the set of the Late Late Toy Show!
9-year-old Bobby gave Tubs the run-down on the new Nerf Nitro kit and the impressive Hot Wheels car park. Bobby even had to do a spot of repair work when the gorilla who climbs the Hot Wheels tower decided to take a rest!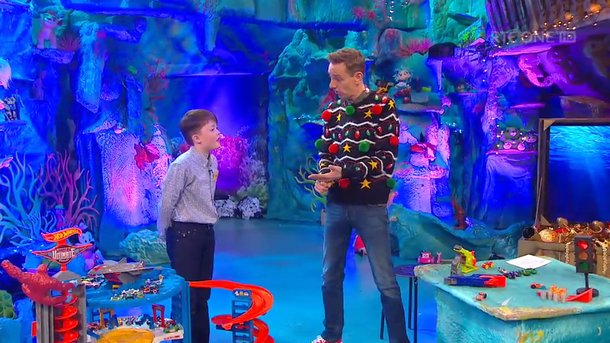 The young motoring enthusiast then gave Ryan a quick run-down on buying his favourite type of car, a DeLorean, saying you could expect to be €10,000 out of pocket just for a shell, with a fully functioning one costing upwards of €50,000!
When Ryan asked had he ever seen a DeLorean in real life, Bobby joked "now I have" as Doc Brown drove on stage!
Bobby sat in his dream car and immediately gripped the steering wheel with a huge smile on his face.
We're certain there'll be sightings of this time travelling car across South Donegal in days to come, although we're not sure if any of the local filling stations stock plutonium!
A real life Delorean in the house! We are officially jealous of nine-year-old Bobby Gallagher from Mountcharles Co Donegal #LateLateToyShow pic.twitter.com/xHGHXcp1mS

— RTE One (@RTEOne) December 1, 2017
Bobby is driving back to Donegal in a DeLorean then #LateLateToyshow #Delorean

— Eibhlín Ní Ruaidhrí (@EllenMellon_88) December 1, 2017
The award to best accent goes to Bobby from Donegal #LateLateToyshow

— Eibhlín Ní Ruaidhrí (@EllenMellon_88) December 1, 2017
Never been so jealous of a #LateLateToyShow child as Bobby and his cars.

— Aaron Mc Elroy (@ItsAaronMcElroy) December 1, 2017
Find a person who looks at you that way Bobby looks at cyars #LateLateToyShow

— Shane Lynch (@ShaneLynch225) December 1, 2017
Tags: