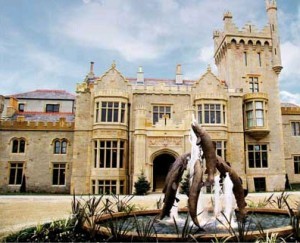 THERE was another boost for Donegal tourism today – as one of the world's biggest Irish-American websites backed a visit here.
Just a day after Hollywood star Minnie Driver revealed Donegal was one of her favourite destinations, the Irish Central website carried a superb review of the Solis Lough Eske Hotel.
"Solis Lough Eske Castle truly deserves its award for Best Country Hotel in the World," enthused the reviewer.
"And to think four years ago it didn't even have a roof ! Originally the seat of the O'Donnell's it was abandoned in 1607 with Flight of the Earls, having had a succession of owners until finally falling into disrepair from neglect.
"It was almost lost forever, which would have been a shame considering its magical woodland setting on the banks of Lough Eske surrounded by the snowcapped Bluestack mountains.
"Thankfully it has since been restored by its present owners to its former glory and re-established as a place of refuge and hospitality for guests from all over Ireland and the world."
She went on: "Sensitively restored and extended, the new buildings blend in seamlessly as they mirror the original layout of the former estate, the pool and spa complex cleverly mimicing the old Victorian glasshouses.
"An impressive baronial style arched entrance leads you into a panelled foyer with imposing staircase and several Edwardian styled drawing rooms with plenty of deep couches to lounge about in front of huge fireplaces with roaring, if at times smokey turf fires which is all part of the charm…."
And the praise didn't stop there – with huge praise for the way Donegal people welcome visitors.
Said the reviewer: "It's the people who work there who are the real jewel in its crown.
"You couldn't call them 'staff' because they will have become friends by the time you leave, but not the type who would go home with you, or contrived in anyway.
"Perhaps it is Donegal genetics or the soft accent as in Kass….il, or some secret school of charm they all attend? Either way the whole country could do with taking lessons from them!
"Solis Lough Eske Castle you genuinely feel like a valued and welcomed guest rather then just another bed night, or paying customer."