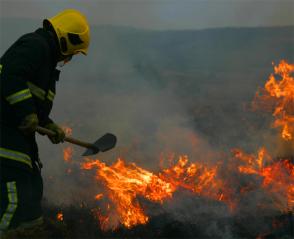 AN Australian based Medical Director on a tour of Donegal has hit out at people setting gorse fires – warning of the dangers to local people of inhaling in the smoke.
Dr Martin McElligott, from New South Wales, was so angry at the practice he wrote to donegaldaily.com to highlight the issue.
In a letter to donegaldaily, Dr McElligott warned fires can trigger life-long illnesses in children.
He told us: "I was touring south west Donegal last week and as I arrived into the beautiful valley of Glencolmcille, it was smothered in smoke with the village covered in a moving cloud. It was unbelievable.
"Apparently some idiot had lit fires in the gorse alongside the valley; the threat to the environment is clearly apparent as the law apparently forbids the lighting of such fires.
"The threat is more serious however, as such heavy smoke can trigger life-long breathing issues in young children and exasperates the same in adults, even at a good distance from the threat."
The doctor revealed that he decided not to stay in the village because of the smoke – but found even more gorse fires further north.
The doctor went on: "As a medical specialist in this area of medicine, I am saddened to see such a beautiful unspoilt communities being subjected to this smoke pollution.
"We obviously decided not to B&B in Glencolmcille, we moved further north towards Glenties, Dungloe and Gweedore; this area was even worse with another gorse fire close to a large settlement of houses in the heart of Gweedore.
"Donegal County obviously has a problem regarding illegal fires. The political representatives have no choice but to seek increased fines on such criminial behaviour and if neccessary subject re-offenders to prison.
"There is also a need for a greater awareness of the impact of such irresponsiblilty through a public education process.
"Illegal gorse fires are a threat to homes; they destroy the habitat and damage public health."
* Send  your comments to info@donegaldaily.com
Tags: