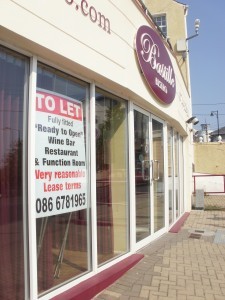 A TOP restaurant once run by on-the-run crook Francois de Dietrich is back on the market for rent – and comes complete with everything including the knives and forks!
Donegaldaily understands de Dietrich walked out of the Bastille Bistro in Letterkenny still owing landlord and local businessman Conor McMenamin rent.
Now the entire premises are back on the market to anyone who fancies opening it as a new restaurant/cafe.
It comes complete with furnishings, including 95 tables and chairs, fully fitted and working kitchens and even the kitchen utensils.
Even the cutlery for the top eatierie are included!
Mr McMenamin refused to discuss French crook de Dietrich who is wanted by police in the North and faces 18 months in prison if he's caught.
He took in millions of euro from more than 200 Donegal investors into a bogus investment scheme.
The Bastille Bistro did have a great reputation for good food, although prices for wine were seen by many as very expensive.
Mr McMenamin said it is a 'ready-to-go' premises.
"It could be up and running again in a few days," he told donegaldaily.com.
"The former tenant is no longer involved with the premises. It is furnished, has room for 95 covers and comes with a fully equipped kitchen. Even the utensils and cutlery are there.
"Ideally I'd like to rent it out again so if anyone is interested they can give me a ring."
Tags: