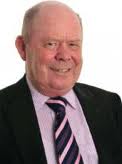 ONE of Donegal's most respected politicians and business leaders will go to court next month in a defamation case against a woman, he claims, wrote a defamatory letter about him.
Bundoran Town Council chair and county councillor Sean McEniff claims ex-car park attendant Patricia McCafferty wrongly accused him of being a corrupt councillor influencing planning decisions in the seaside town.
The claims were made in a letter written by Ms McCafferty in January 2009 which was sent to Bundoran Town Council.
Yesterday Ms McCafferty applied for an adjournment at Donegal Circuit Court saying she wasn't ready to proceed with a defence as the case was listed for hearing a fortnight ago.
Peter Nolan, counsel for Mr McEniff, said Ms McCafferty had admitted that she had sent the letter in which she claimed that Mr. McEniff was 'a corrupt Co. Councillor'. He said the case should go ahead.
Judge Leonie Reynolds told Ms McCafferty that she had been given adequate time to prepare for the case and she had no doctor's certificate.
The judge added that she was going to "indulge" Ms McCafferty and grant her an adjournment to Letterkenny Circuit Court in the third week of July when the case would be first on the list for hearing.
Tags: