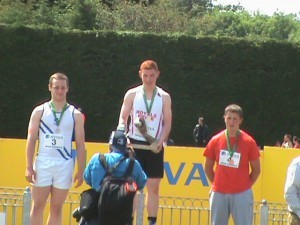 The Irish schools has forever been a class athletics meeting and it continues to hold the stage for all the right reasons . Tullamore Saturday was always going to prove a serious test and there emerged certainly two really positive returns with the possibility of 4 others if the detail to training ,lifestyle and attitude continues to be there .
First up was James Speight a student at Erne Integrated his last schools race in this sphere of life the steeple and he nailed it 6-14-52 to win .
He had worked hard deserved the honours and grabbed the opportunity . In the same event Mark Bonner 6th from St Columbas 6-35-10 certainly has potential so needs to think about moving to the next level which he undoubtably can.
John Kelly Royal and Prior had a good javelin outing early in the day 47m plus just short of a medal but a significant pb then his event the shot he led after 3 Q rounds was caught in the 6th round so what was it to be respond or take a beating . The answer get it together push to the limit and see where it was going .
It went to 14-64m game over a winning throw which considering the background the pressure etc is positive. This is with the 5kg ball and getting into the right competition environment will be important hence the schools international per the Tailteann Games and the AAA champs to nail a 15m mark. Competition and his response to same will hit that .
Blaithnaid Patton and her Columbas schoolmate Caoimhe Mc Menamin were on early morning a bronze for Blaithnaid in high 1-55 needs 1-60 to nail an international spot at a minimum and junior girls long 5th for Caoimhe 4-81 . Sean Woods Royal and Prior recorded a pb 51-56 inter boys 400m thats getting close to an impact result needs a sub 51 and he may be in line for schools selection.
Tuesday night Letterkenny the venue its the 14-18 county champs.
The weekend saw one other notable mark that of Noel Collins 1.50.9 for 800m IMC guest event in Tullamore a club record and considering he got boxed in finished 2nd that under 23 1500 is within his grasp in coming weeks .
Congrats to Ruairi Finnegan ,St Eunans and Abbey V S junior girls relay both breaking records in respective events.
Katie McGowan from Abbey VS won the 75M hurdles in 11.42. Super result.
Darren McBrearty ran 800m in 1.47.8 in Germany.