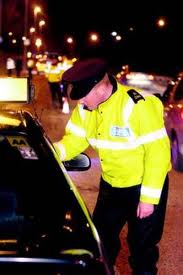 GARDAI have launched a county-wide blitz on drink drivers – targeting motorists driving the morning after a night out.
A number of checkpoints were operated close to pubs today as officers implement new stricter drink drive laws.
New lower drink-driving limits came into force on Friday, reducing the maximum blood-alcohol level to 20mg per 100ml of blood in some cases.
The changes, which bring Irish law into line with European levels, will see the current limit of 80mg drop to 50mg for most drivers.
Under the regime, professional drivers, learner drivers and those who are newly qualified will be subject to the lower 20mg limit, as will other categories such as those driving tractors or cars with trailers.
One donegaldaily.com reader was stopped this morning outside a pub in the north of the county.
He told us: "I had left my car overnight, but thankfully I only had two pints so I was under the limit when I was stopped this morning."
Publicans have reacted with scorn to new drink and driving legislation, saying they will close half of all rural pubs.
HOW IT WORKS:
THE REDUCTION in the alcohol limit can be implemented following the enactment of the Road Traffic No 2 Act 2011. Fixed-charge penalties under the system will apply as follows:
* For a blood-alcohol level of 50mg-80mg, the driver will be arrested, brought to a Garda station and required to provide breath or blood or urine specimens.
* In all cases where the level is between 50mg and 80mg and the driver is not a "specified" person (eg, a learner or a professional driver) and has not had a fixed penalty for drink-driving in the previous three years, a fine of €200 and three penalty points will apply.
* Points will remain on the driving licence record for a period of three years.
* Any driver accumulating 12 points in three years will be disqualified from driving for six months.
* For a blood-alcohol level of 80mg-100mg, the arrested driver will be required to provide breath, urine or blood samples after arrest. The applicable fine will be €400 and the person will be disqualified for six months.
* For a blood-alcohol level of 20mg-80mg, the arrested driver will be required to provide breath, urine or blood samples. The applicable fine (provided the person has not received a fixed penalty in the previous three years under the scheme) will be €200 and the person will be disqualified for three months.
* District Court penalties will apply where the blood-alcohol level is above 100mg or above 80mg for those classed as "specified" persons, where the person is not eligible to be served with a fixed penalty notice or where a fixed penalty has not been paid.
* A sliding scale also applies to convictions with a consequent driving ban of between six months and six years, depending on the blood-alcohol limit applying to the driver concerned.
* The maximum fine remains at €5,000 and/or six months' imprisonment.
Tags: