A man punched a priest during Mass after the cleric refused to accept a donation from him, a court heard today.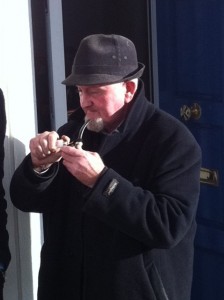 Seamus Doherty, 66, arrived at St Colmcille's in Glendowan, Churchill before 8pm Mass was due to start on January 15th, 2011.
He went into the sacristy of the church and offered Fr Michael McKeever a donation of cash.
The priest refused and went on to start Mass, the court heard.
However when he started Mass, Doherty, of The Rock, Churchill, began to interrupt the ceremony.
He began shouting and roaring abuse and standing in the middle aisle of the church.
Fr McKeever asked Doherty to stop but he refused.
At one stage he pulled a bottle of alcohol from his pocket.
The priest asked Doherty to go to the back of the church but the accused began swearing at Fr McKeever and said he was not leaving.
He then began to shout allegations that the clergy were responsible for the suicide of a young local man whose family was present at the Mass, the court was told.
Fr McKeever, assisted by members of the congregation, eventually went down to Doherty and asked him to leave.
However the accused became more aggressive and eventually punched the priest in the forehead before leaving.
Defence solicitor Frank Dorrian told Letterkenny District Court his client had a problem with alcohol and also had mental health problems.
"His behaviour is completely irrational because he has no issue with the clergy or the Gardai.
"He has a long history but he says that by hitting a priest he has now hit rock bottom," he said.
Judge Paul Kelly said Doherty was obviously a serious risk to himself and to the community when he "loses the run of himself."
"I can think of little worse than a family hearing things like this in a church.
"I have heard this man has problems. It may well be better that he is taken off the streets to address these," he said.
Judge Kelly adjourned the case until March 15th for a probation report.
At hearing.
© 2011 donegaldaily.com, all Rights Reserved
The copying, republication or redistribution of donegaldaily.com Content, including by framing or similar means, is expressly prohibited by law.
Follow us on www.twitter.com/donegaldaily
Follow us on www.facebook.com/donegaldaily
Sell anything on www.donegaldailyclassifieds.com
Tags: