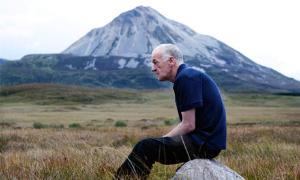 A CO Donegal man who was adopted as a child has tracked down his birth father's family.
Churchill man John O'Donnell wrote a moving article for donegaldaily.com earlier this month detailing his 55-year search for his birth mother.
Now John has revealed that his search for his birth father has now also proved successful.
And although he is dead, John has discovered he has a half-sister and eight half-brothers in Co Cork.
In another moving article for donegaldaily.com today, John tells how he plucked up the courage a few days ago to call his half-sister and break the news to her.
John's previous article is here: https://www.donegaldaily.com/2012/02/16/a-journey-of-hope-and-heartbreak-from-cork-to-donegal-my-55-year-search-for-my-mother/
This, in his own words, is his moving update:
My Journey of Hope and Heartbreak….the Final Chapter!
By John O'Donnell (Cotter)
Recently I opened my heart to the world  about my long and often painful search to find my birth mother, a search that has taken many twists and turns, setbacks and disappointments but after 55 years was to have a conclusion of sorts. After many years of searching, I discovered my birth mother had died in 2005 and  sadly  I was to be denied meeting her in this world.
Perhaps if I had taken another path or commenced my search earlier I might have been able to meet up with her. On the other hand, perhaps she did not wish to make contact, as was her apparent wish in the  short terse note which I had received from her in 1996. I will never know the answer ….I can only speculate and try to think how I would have reacted if faced with this stark choice.
A secret carried for so long and kept from so many, especially her own family…I understand fully how difficult this would have been for her.
So many times my mind has travelled to my birth place in a Mother and Baby Home in Bessborough in Co Cork and how she must have felt at the time and the predicament she found herself in. She was to have a child out of wedlock ….. the terror that must have been in her heart in the harsh and unforgiving Ireland of the 1950s.
I hope I was forever in her thoughts, her firstborn child. I know from recent discussions with my sister that my mother was a kind and loving woman and I know  that occasions like my birth date, Christmas and other family occasions  like 1st Communions etc must have been  particularly difficult times for her.
Sadness tinged with joy as along the way I discovered I had two long lost half brothers and a sister living in England and America as my mother had married  very soon  after I was born and had borne four more children. Unfortunately, one of these children a little girl named Bernadette Mary died aged 7 months.
As I penned my earlier report, I stated that the jigsaw was not completely finished, I had one last  important piece to slot into the puzzle …who was my father? How do I explain that burning obsession to uncover one's past?  Only another adopted child  can fully understand that need and determination …..it eats at your soul day and night. It's every child's birthright to know about their parents, their roots and their  beginnings in life. An adoptive child's rights are just as important as any other child…'Cherish all children Equally'.
Little did I know at that time of writing, I was to find out his identity very shortly afterwards!
My story got a lot of media coverage both in Donegal and throughout the country. I stated in my story that I thought my father was still alive,  however I was to be proved very wrong in this assumption!
Things happened very quickly!  A distant cousin who heard/read my story and had   knowledge of the identity of my father contacted Michael Cotter, the administrator of the Cotter Family website.  Michael in turn contacted me with the name of my father  and further information regarding my birth father's family.
It was common knowledge in the Inchageelagh area that my mother and father were in a relationship but due to work commitments my father had moved some distance away to live with relatives.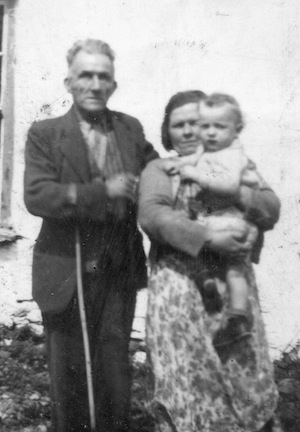 Last Saturday 25th February 2012 began as an ordinary day in my ordinary life, a beautiful day in early Spring,  but before the day was over I would have made contact and spoken to my paternal half sister in Co Cork. The previous day I had  discovered my birth father lived in a small village in Co Cork and was dead for a number of years.
However, he had a family of eight sons and one daughter  .   I had a name and some details so' taking the bull by the horns 'I made discreet enquiries and within a short time had ascertained  the name of my half sister . With trepidation I dialled the number I had been given and a lady answered and identified herself.  I knew immediately I was talking to my half sister .  Shaking with nerves, I explained my purpose for calling her  and feared rejection with my preposterous story.   But she was very forthcoming  and most interested when I said I was making enquiries about her late father.
I now had to inform her of my identity and to say she was shell shocked and overwhelmed was an understatement!  However, when she had recovered from the shock of my announcement she was delighted to have another brother and welcomed me warmly to her family. A simple phone call and the 55 year mystery of my parentage  and the mystery of my birth I had struggled so long to solve was unravelling!
She informed me she would be contacting the rest of her siblings with this stunning news and I should expect contact from them in the near future. All my half brothers with the exception of one are living in Ireland in various locations around the country.
How do I describe my feelings at this news ? In the space of a few minutes I had acquired eight half brothers and a half sister. I wasn't expecting this great news so quickly and so sensationally. I had resigned myself to another long and arduous search for my father's identity.But this piece of news took my breath away and I must admit I was overcome by my emotions for some time afterwards.
The following day  four of my half  brothers made contact with me and all welcomed me with open arms in to their family. One of my half brothers is currently in Keyna doing voluntary work. By this time the initial shock had worn off and we swapped stories about our respective families. I referred them to my earlier story  and photos of myself and all agreed that I very much resembled my late father.  Another comforting thought!  It was one of my brother's birthday on that day as well ….once again another coincidence in this journey of mine!  Out of respect to my new found family I am not prepared to reveal their identity at this particular time but perhaps later and with their approval all will be revealed.
My mind whirled with conflicting emotions but as the day passed and the wonderful news sunk in, a certain peace and calm descended on me. Nobody's path through life is without obstacles but mine seemed to be longer than most and at times  particularly bumpy. For so long I had been sorely troubled about what I considered the unfortunate hand life had dealt me. But I had accepted my fate a long time ago and got on with life  although this proved very difficult at times. But I never gave up on my search for my parents although life got in the way at times.
But I finally had the answers  and closure I yearned for, and the last piece of the jigsaw slotted perfectly  into place. My life is  no longer in turmoil,  My mother and father are no longer an enigma…. I have finally found that inner calm and a wonderful assurance that we will meet when there will be no more sorrow, no more pain.
For some time now I have felt this niggling need to write about my experiences so that it might be a help someone somewhere…perhaps give them the confidence to undertake a search of their own.  And what a story it has become! Nothing is impossible in this technologically advanced world of ours any more.  Information is only a click away!
I will be eternally grateful to Michael Cotter who helped me in my search and provided me with the links that set me on this journey of discovery  and eventually led me to this happy day in my life. To my adoptive brother Patrick, I owe so much. My big brother,  he has always been a constant in my life since my adoption and he and his family have been so supportive and encouraging to me every step of the way  in my long and oftentimes frustrating search for my roots.   My adoptive mother continues to cling to life in a nursing home and she is my main priority in my life  at present.  I will always be indebted to her and my late father for providing me with a warm and loving home when I was in desperate need of one.
My journey will finally come to an end this year after I have visited the graves of my Mother , my Father and baby sister Bernadette, The void in my life has been filled even though it has not had the happy ending I hoped for.But with my identity and my past no longer a mystery I feel complete and my path in life ahead is clear.
© John O' Donnell. (cotter)
Tags: