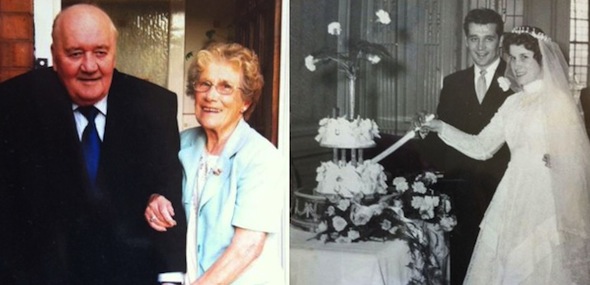 A LOVING Donegal couple who had been married for 55 years have died within 24 hours of each other.
The coffins of pensioners Tommy and Bridget Sweeney lined up together for a joint funeral at their local Corpus Christi Church in Birmingham, England.
They had died within hours of each other last week, despite health problems meaning they had spent much of the last year apart after a blissful life together.
Tommy, 79, was born in Glasgow but his mum Frances Deeney was from Fanad. He had been blinded by diabetes before a stroke in November left him partially paralysed and in need of round-the-clock care at a nursing home.
He passed away in the small hours of last Wednesday.
Bridget, affectionately known as Bridie, had been living at Solihull's Marie Curie Hospice after having been diagnosed with lung cancer.
The 87-year-old died just before midnight on Wednesday – never knowing she had lost her beloved husband.
Bridie was from Cornaveagh near Donegal Town. The couple married in Glasgow in 1957 after meeting in the close-knit Co Donegal community there.
"The togetherness that characterised their life together was also part of their journey into heaven,'' said their 49-year-old son Thomas.
''Knowing they never felt the loss of a partner that had shared a long and very happy 55 years of wonderful family life and marriage together is solace for us.
"It was just a tragic coincidence. I don't think mum knew he'd died – so thankfully they didn't have to suffer the loss of the other."
He added: "They were real, loving family people. We would always be together and they were a very social couple."
Tommy, a former RAF policeman, moved Birmingham in 1975 before moving to the city completely the following year with Bridie and their four children.
They had a fifth child who died at birth.
"When my dad knew mum had cancer, I think he gave up the will to live and his health started deteriorating from there," added Thomas.
"He knew how serious it was for her and he just wasn't interested in being without her.
"She went to see him every five or six days, but her health was also getting worse.
"But the staff at the Solihull hospice were so caring and compassionate and they made sure my mum's passing was as comfortable as possible.
"They really looked after her well, so we'd like anybody who knew them or who can help to donate to the hospice's Big Build Appeal."
Tags: