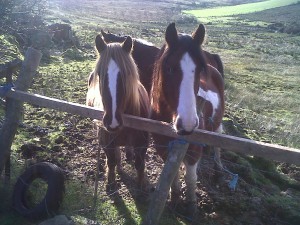 A LETTERKENNY man has been fined €350 after allowing three horses to wander the roads of the town, disrupting traffic on one of the busiest routes.
Charles McDonagh, a 40-year-old from Ballymacool Woods, admitted the offence after a prosecution brought under the 1996 Rogue Horses Act.
Inspector Michael Harrison told Letterkenny District Court that gardai had been called to the area around the town's fire station on a number of occasions last year.
One one occasion – on April 10 last year – Garda Cregg, who is "the station's resident expert" on horses helped retrieve the animals from the road close to the hospital roundabout.
The horses were returned to the field but could easily escape again "due to poor fencing."
Gardai called in animal welfare experts and the horses were taken to a council facility in Co Cavan.
Defence solicitor Patsy Gillespie said his client, an unemployed father of three, had been away at a wedding on the date in question.
He had been forced to pay for the cost of taking the horses and their return to Donegal.
"There was no-one around that weekend who could have helped as they were all down the country," said Mr Gillespie.
He told Judge Paul Kelly: "The horses were not a danger to anybody; what's a danger to some people is another man's pet."
However Judge Kelly dismissed this, saying there were a number of recent incidents where loose horses and other animals had caused serious damage to vehicles.
He fined McDonagh €350, giving him four months to pay – with a 15-day prison sentence for non-payment.
Tags: