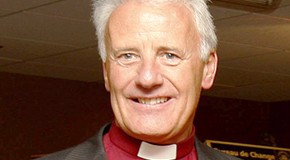 A Co Donegal priest has gone on trial in the North on five charges of indecently assaulting a 14-year-old girl.
Fr Eugene Boland, 66, originally from Moville denies assaulting the girl from June 1990 to June 1992.
He is alleged to have committed the offences in a parochial house in Derry's Galliagh area where the complainant did voluntary work.
The allegations were reported to police in 2010.
Prosecuting counsel Russell Connell told the Crown Court in Derry that the alleged indecent assaults involved the defendant rubbing the girl's waist under her clothes, kissing her on the lips once in a passionate manner and rubbing her leg with his foot under a dining room table.
He is also alleged to have asked her if she was having a sexual relationship with her boyfriend and asking her on one occasion if her trousers were buttoned.
The prosecution barrister said the complainant later confronted him in the confessional where the defendant is alleged to have told her "despite being a priest we are still men underneath and we still think like men".
The prosecutor said when the complainant wanted to report the matter to a bishop the defendant is alleged to have gone down on his knees and apologised for the hurt he had put her through.
Mr Connell said the allegations were reported to the police in April 2010.
The defendant, with an address at the parochial house at Killyclougher Road in Omagh, was interviewed at Omagh police station and denied the allegations.
When interviewed by Mrs Mary McCafferty, the designated diocesan officer in relation to complaints made against priests – the defendant is alleged to have described himself as a "touchy feely kind of person".
* Comments are closed on this story