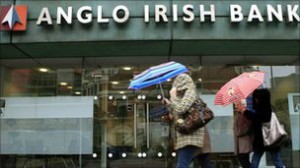 ANGRY Donegal people will take to the streets at lunchtime today to protest over the revelations about Anglo Irish Bank.
'Jail the bankers' protests' will also take place in Dublin and Galway.
Protest organisers say that the Anglo Tapes – revealed this week by the Irish Independent newspaper – were the final straw and are calling for the government to do more to tackle the bankers.
Gerry Bray is behind the protests in Donegal Town at 1 0′clock this afternoon.
He says people need to take to the streets to force action.
There have been more revelations in the Anglo Tapes scandal on Saturday morning.
They show that the Brian Cowen led government refused to shut down Anglo Irish Bank despite warnings from the governments own external advisers, Merril Lynch.
In the latest batch of tapes published by the Irish Independent today, former CEO David Drumm is heard telling colleague John Bowe that Merril Lynch had turned against them and branded the troubled bank a basket case.
The conversations took place just days before David Drumm lost his job and the bank was nationalised at a cost of 30 billion euro to the Irish taxpayer.
Tags: