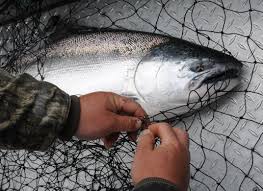 A POACHER caught with a 10lb salmon on the River Finn has told a judge: "I just wanted a wee fish to eat."
John Crawford was caught with the salmon and a net by Garda John O'Sullivan on the River Finn near Castlefin on June 3 last year.
The court heard that Gda O'Sullivan spotted Crawford and a second man carrying a large white sack and thought the behaviour was suspicious
When the garda caught up with the accused, Crawford had said: "I thought you were the bailiff – I was poaching."
Crawford, of 8 Dergview Hillhead, Castlefinn, pleaded guilty.
He was asked by Judge Paul Kelly at Letterkenny District Court why he was out poaching.
"I was just trying to get a wee fish to eat," replied Crawford.
Crawford was fined €150 for poaching the salmon, €150 for possession of the net and ordered to pay €350 costs.
"That's an expensve salmon I'm afraid," Judge Kelly told him.
Tags: