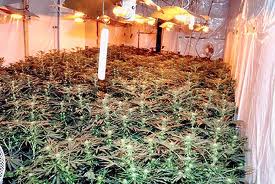 A Judge has recommended that two Chinese men involved in one of Ireland's biggest-ever cannabis growhouse operations leave Ireland.
The two men, Gou Quing Zhou (38) and Zhen Hua Zhong (28) were caught by Gardai who raided a massive disused furniture warehouse in Malin in October 2012.
Garda search teams uncovered €1.6M worth of cannabis at various stage of growth including 18kgms of vaccum-packed cannabis.
The two accused appeared at Letterkenny Circuit Court yesterday (TUES) after pleading guilty to the offences.
The court heard how Garda were tipped off about the operation after a member of the public noticed a large amount of heat coming from the 10,000 sq ft building.
When Gardai raided the premises, they found the premises had ben divided into various rooms and an elaborate cannabis-growing operation.
As well as heating lamps, there was equipment used to hydrate the plants as well as a packing operation.
A fridge, two laptop computers as well as various food was also found in the warehouse.
When arrested the two accused admitted their parts in the operation.
Garda Jason Conroy said the ESB supply had been bypassed and there was a very strong smell of cannabis in the building.
Garda Conroy said both men were very honest and co-operative and he thought they were 'mules' in the operation.
Barristers for both men said their clients were paid very little money for their work and their culpability was at the lower end of the scale.
Judge John O'Hagan said he appreciated both men were 'victims' in one sense but he said they knew well what they were doing.
He said people had their own opinion on cannabis but the reality was that young people acted in a way outside discos that they would not normally do having consumed the drug and alcohol.
"It's a nasty business and it brings about nasty things," said Judge O'Hagan.
He added that
He sentenced Zhong to 26 months in prison but backdated the sentence until when he was first put in custody on October 10th, 2012.
Judge O'Hagan said the second accused, Mr Zhou, had a larger involvement as he had been caught pruning and cutting the plants.
He sentenced him to 30 months in prison but also backdated the sentence to October 10th, 2012.
He also advised both men to leave Ireland.
Tags: