There was some Donegal delight on Friday night at the Ulster Senior and Novice Championships at the Dockworkers Club in Belfast.
Dungloe duo Matthew McCole and Danny Boyle and Illies Golden Gloves' Cathal Brown all won titles in the ring, while Ballyshannon's Dylan Doherty also took a title back to Donegal.
Slick southpaw McCole (above) won the senior light-welterweight title after a superb win over Colm Trengove of Spartans.
McCole was too hot to handle. The big striding Dungloe ABC man was excellent throughout the three rounds and took a 5-0 verdict from the judges.
McCole was in control from start to finish and will now turn his mind to attempting an elusive Irish title.
Illies light-heavyweight Brown had stopped Arthur Sterns from Lisburn in the opening round of his semi-final on Thursday and he recorded an impressive final win on Friday over Noel Donnelly, one of the Dockers' own punchers.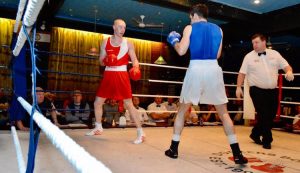 Brown (above) wore Donnelly down and was in cruise control by the third stanza to claim the prize.
There was no joy for Raphoe ABC bantamweight Dennis Lafferty, who lost out to the excellent Conor Quinn of Clonard, who is now tipped to challenge for an Ulster Elite title next month.
Letterkenny heavyweight Michael McConigley was unlucky to miss out in his final with Pearse McDonald (Star). McDonald took a 3-2 verdict, but there was barely a toss of a coin between them.
Boyle won the Male Novice's light-heavyweight crown when he stopped James McCormick of East Down in the third round.
Doherty was given a walkover win at 52kgs while Ballyshannon's Niall McConigley was stopped by Stephen Cunningham from the Mark Heagney club in the second round.
Tags: