Danny Mooney and Eoin Hughes both got 2018 off to a good start at the weekend as the 2 LAC men swapped Donegal's sub zero temperatures for the rather higher temperatures of the Emirates Stadium,  the indoor running arena in the east end of Glasgow.
They were running in Sunday's Glasgow Athletics Association/Scottish Athletics Miler Meeting. Both achieved PBs in their first indoor races of the season.
Danny recorded a time of 8.22.13 to finish 2nd in a very high calibre 3K  race, which was won by Perth Road Runners' Sol Sweeney.
Eoin Hughes also had an excellent race in his 3K and clocked 9.10.88 to come home in 4th place.
It was another highly successful week for in-form Karol Duggan, who has been in sensational form since his recent return to athletics.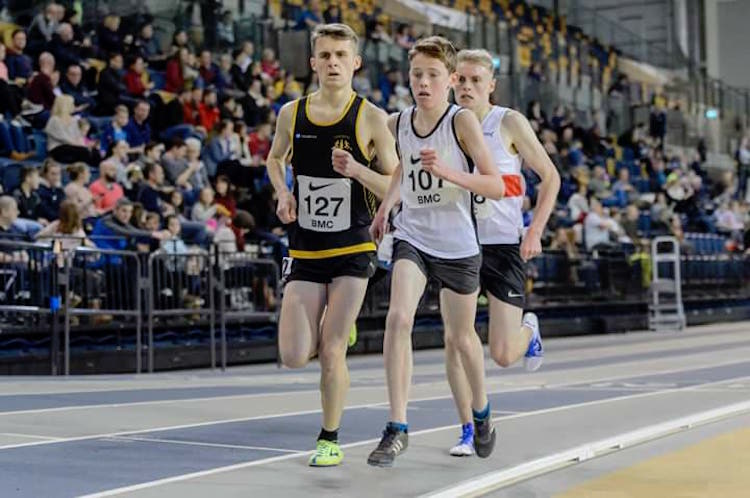 Karol showed exactly why he has made people in Irish  athletics sit up and take notice in recent months. Karol had an excellent run in the  Antrim International Cross Country. In a race brimming with talent, Karol finished in the top 14% overall. He clocked 26.13, which gave him 2nd place in the M35 category. 
Matthew Johnston and Donal Farren both had excellent runs in the Under 20 race in Antrim. They ran in the Northern Ireland and Ulster team.
Highly experienced and hard working  LAC coach, Teresa McDaid, was the team manager of the Athletics Ireland team. 
Letterkenny AC's first event of the year, 'The New Year Fun Run' was held on Sunday morning in a temperature of minus 4.
Despite that, conditions underfoot were favourable. LAC's Anthony Doherty found a way of heating up. He marked his return to racing with a victory in the 5K in a time of 16.53. Gerard McGranaghan was 3rd in 17.56 and Barry Meehan was 6th in 18.47. 
Paul Toner clinched 1st place in the M40 category in 18.54 and fellow LAC man, Martin Gormley, was the 1st M50 runner when he came home in 19.03. Darren Price ran 19.47 and Ciaran O'Donnell was the 2nd M40 in 19.50.
John Hughes was the 2nd M50 runner in 20.13. Liam Ferry clocked 20.36 and Peter Gallagher 20.58. Irene McFadden's time of 21.00 gave her 1st place in the women's race. Richard Raymond was consistently to the fore in  the M60 category throughout 2017. He showed that he intends that pattern to continue in 2018 when he won the M60 prize in 22.27. LAC man Brian McBride was 2nd in the M60 category in 23.48. 
Pat McKenna was 1st in the F40 category in 24.20. All at LAC were delighted to see Marie Boyle making a welcome return to racing after a spell out due to injury. She finished beside her fiancee, Gary Kearns, in 24.21 and was 2nd in the Female Open category. Ryan Bradley clocked 25.35 and Niamh McDaid 25.37.
The club is very grateful to all those who helped with the race, including the stewards and the staff of Aura Leisure Centre. 
Martin Gormley was the first LAC finisher in Saturday morning's Letterkenny parkrun. Martin's time of 20.33 saw him finish 3rd overall and 1st in the M50 category.
Young Alex Plumb was the 1st runner in the JM10 category in 21.53. Catherine McKinley was an impressive Letterkenny parkrun debutante. She had an excellent run and was the first woman across the line in 23.13. 
Noel Lynch was the 2nd M50 runner in 24.24 and James McBride was the first M65 runner in 24.28. Cathal Roarty clocked 25.25 and Peter McLean completed his 63rd Letterkenny parkrun in 26.26. Jack Lydon's time was 30.21.
The winning numbers in the LAC lotto on January 4th were 7, 9, 12 and 13. There were no Match 4 winners. 4 Match 2 winners won €20 each- Paddy Marley, Niamh McDaid, Paddy McIntyre and John McFadden.
Tags: