Mulroy Academy and Illistrin sit atop the Donegal Women's League's U12 League after big home wins on Monday night, while Raphoe Town had the edge on Gweedore United in a 14-goal thriller at Deele College.
There are no U12 games on Bank Holiday Monday.
Clubs are reminded to submit results, match reports, including goal scorers of BOTH teams, to Donegal Women's League PRO Chris McNulty, as soon as possible after games.
Raphoe Town 8 Gweedore United 6
There were goals galore in Raphoe on Monday night when Raphoe Town and Gweedore United played out a cracking game at Deele College that swung from end to end with some really terrific open football played.
Highlight of the game was a personal battle between Gweedore United's Mary Ann 'Messi' Ward and Raphoe Town captain Ella McHugh, both of whom completed the night with four goals apiece to their name.
The home side had a couple of early chances to take the lead, but it was the visitors who struck first when Ward jinked her way down the left before firing into the bottom corner.
The tricky Gweedore United player was a joy to watch all night and a fantastic run down the right wing a few minutes later drew the Raphoe defence before she squared the ball to Briana Ferry to make it 2-0 to the visitors.
Raphoe rallied though and Ella McHugh repeated at the other end, what Ward had done for Gweedore. First she jinked her way down the left, past three defenders before slamming the ball to the back of the net, then she popped up on the other flank and squared for Aine O'Flanagan to race in at the back post to make it all level at 2-2.
The Raphoe captain has been in fine scoring form of late and she grabbed two more excellent goals before Alicia McCullagh twisted and turned her way past two defenders before slotting home just before the break to give Raphoe a 5-2 lead at the interval.
It seemed as if Gweedore were out of it when McHugh burst through again to make it 6-2 and the Aine O'Flanagan and Alicia McCullagh both found the net again and Raphoe's lead was out to six with fifteen minutes left to play.
But despite the goals conceded, the young Gweedore team was actually playing some very fine attacking football and as the game headed towards the closing stages, Mary Ann Ward took centre stage scoring twice to complete her hat-trick and setting on another for Maria Gallagher to find the net.
There was still time for both teams to have chances to add to the scoreline in what really was a terrific game, well refereed by Patrick Martin.
Mulroy Academy M 7 Lagan Harps 0
In perfect weather conditions in Rabs Park, Kerrykeel, Mulroy M continued their winning streak to add another three points to their tally.
Clodagh Herron kick-started the match with a goal in the first minute, followed soon after by goals from Megan McLoughlin and Eva Blaney.
Leah McLoughlin was in fine form defending well with help from Kate McAdoo, Olivia Friel and Aoife McMullan.
Further goals from Clodagh Herron, Rachel Friel and Megan McLoughlin put Mulroy out of reach of a young Lagan team who fought hard from start to finish, never giving in.
Rachel Friel scored again in the second half leaving Mulroy with a comfortable lead although strong performances from Aileen Sweeney and Orla Doherty of Lagan kept them on their toes to the final whistle.
Goalkeeper Hannah Gallagher moved out field for Mulroy in the second half where she performed well with Emma McGrenaghan and Aoife Carr also putting in good performances for their team.
Bonagee 7 Mulroy Academy S 1 
The Bonagee girls got a big win against a young but hearty Mulroy team.
The home side got off to a quick start with Grace Murphy scoring the first goal.
Laura Callaghan shortly made it two with her third goal in three games. When Murphy played a great ball in the box, Callaghan was there to tap it in.
Murphy got on the ball shortly after and got her second of the night and it wasn't long before she got her hat-trick.
The Mulroy team kept fighting away and never gave up with Kaylagh Sweeney playing exceptionally well.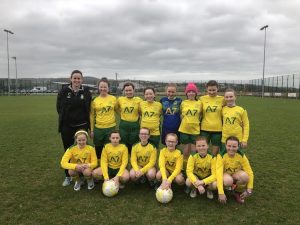 Mulroy got a goal through Aine McElwaine who went past the Honagee defence and slotted it in the top corner.
Bonagee made it five with Cailtin Moore getting her first goal for Nonagee.
Bonagee came out in the second half with a lot of changes made and Mulroy started to come into the game a lot more, their keeper playing really well for them.
Sienna Doherty, who worked very hard up front for the home side, got her first Bonagee goal and Chloe Creevy made it 7-1 and wrapped up the game.
A big performance from both teams. Best for Mulroy was Kaylagh Sweeney.
Best for Bonagee were Laura Callaghan, Katherine Hopkins and Sienna Doherty.
Illistrin FC 4 Swilly Rovers 0
Illistrin under 12 girls entertained Swilly Rovers at home on Monday night.
Both sides contested a very sporting game of football.
The game was very even for the first 15 minutes and with tackles flying in from both sides.
Illistrin then took the lead when Sarah Robinson ran down the wing and cut inside a fired a shot into the bottom corner.
Illistrin seem to settle after this with Darcey Kelly Rhiona McFadden and Grace Nugent controlling things in defence.
The home side then doubled the lead when Orla McCrossan twisted and turned her opposite number and fed a lovely ball through to Leanne McGettigan, who stroked the ball into the corner.
More or less straight from the kick off it was three when Sarah Robinson latched onto a through ball from Eabha Daly to calmly slot the ball pass the keeper.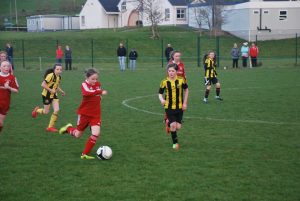 In the second half illistrin welcomed back Clare Gallagher from injury and she almost extended there lead when she went on a mazy run only for the Swilly keeper to pull of a fine save.
The black and yellows then made it four when Kate Malone passed to Orla Malseed, who buried the ball in the bottom corner.
Illistrin then went close again when Erin Duffy slid the ball down the line to Eve McCauley who glided past her defender and hit a shot which cannoned of the post.
Illistrin managed to hold on to the end when some good defending from Ella rose McDermott and Hannah McGinley prevented the away team from scoring.
This was another very entertaining game and well refereed by Con McLaughlin
RESULTS
Under-12 League – Monday
Mulroy Academy 7-0 Lagan Harps
Illistrin FC 4-0 Swilly Rovers
Raphoe Town 8-6 Gweedore United
Finn Valley 0-1 Kilmacrennan Celtic
Bonagee United 7-1 Mulroy S
FIXTURES
Under-16 League – Wednesday, May 2, 6.30pm
Raphoe Town v Illistrin FC
Kilmacrennan Celtic v Mulroy Academy
Finn Valley v Swilly Rovers
Under-14 League – Friday, May 4, 6.30pm
Gweedore Celtic v Swilly Rovers
Mulroy Academy v Bonagee United
Gweedore United v Lagan Harps
Finn Valley v Illistrin FC
Kilmacrennan Celtic v Raphoe Town
| | | | | | | | | |
| --- | --- | --- | --- | --- | --- | --- | --- | --- |
| Under-12s | P | W | D | L | F | A | GD | Pts |
| Mulroy Academy | 3 | 3 | 0 | 0 | 20 | 1 | 19 | 9 |
| Illistrin | 4 | 3 | 0 | 1 | 11 | 5 | 6 | 9 |
| Raphoe Town | 4 | 2 | 1 | 1 | 16 | 14 | 2 | 7 |
| Finn Valley | 3 | 2 | 0 | 1 | 7 | 4 | 3 | 6 |
| Bonagee United | 4 | 2 | 0 | 2 | 13 | 14 | -1 | 6 |
| Kilmacrennan Celtic | 3 | 1 | 0 | 2 | 1 | 3 | -2 | 3 |
| Gweedore United | 4 | 1 | 0 | 3 | 11 | 17 | -6 | 3 |
| Lagan Harps | 3 | 1 | 0 | 2 | 4 | 13 | -9 | 3 |
| Swilly Rovers | 3 | 0 | 1 | 2 | 6 | 12 | -6 | 1 |
| Mulroy Academy S | 1 | 0 | 0 | 1 | 1 | 7 | -6 | 0 |
UNDER-12 TOP SCORERS
Ella McHugh (Raphoe Town) 8
Mary Anne Ward (Gweedore United) 8
Clodagh Herron (Mulroy Academy) 7
Grace Murphy (Bonagee United) 7
Eva Blaney (Mulroy Academy) 6
Leanne McGettigan (Illistrin FC) 4