There were big away wins for Bonagee United, Illies Celtic and Greencastle FC as the first phase of games in the North West Women's Super League came to a close on Thursday evening. 
That trio of teams, along with Fanad United, will compete in the top four as the League splits with Lagan, Carndonagh, Moville and Clonmany competing in a second section.
Fixtures for the second phase have yet to be drawn up.
Lagan Harps 0 Bonagee United 5
Bonagee United continued their fine recent form with a derby win over old rivals Lagan Harps at Orchard Park.
Bonagee captain Natalie McFadden netted her third hat-trick of the season and midfielder Alice Diver scored a brace of goals as the Dry Arch side swept to victory.
It took the visitors until the 38th minute to take the lead and it was McFadden who broke the stalemate. McFadden found a way from the right-hand side of the penalty area as a deft effort looped over Lagan 'keeper Neve Scanlon.
Lagan themselves might have taken the lead but Catherine Grier, after getting free in the box, got her head to a corner, but nodded wide.
Irish Deaf Futsal team international Grier tested Claire Friel, the Bonagee United goalkeeper, with a long-range free, but Friel brilliant arched up and turned over the top to avert the danger.
On the stroke of half-time, Bonagee doubled the lead after an excellent team move.
Coilín Hume's timely interception at the heart of the defence began the play. Diver and Shannon McBride were involved before the ball was quickly transferred to Julie McCloy, wide on the right. McCloy's first time cross was wonderfully steered home by McFadden to send Bonagee in buoyant at the interval.
Lyndsay McElchar went close to bagging a goal on her first Bonagee start, but a lobbed effort dropped the wrong side of the goal-line while McCloy was denied at close range with Diver floating a teasing effort just over the top.
On 64 minutes, Bonagee extended the advantage when McBride's corner was headed in by Diver.
Five minutes later, McFadden – who'd had an earlier header come off the bar – completed her hat-trick with a tidy finish after getting on the end of a long ball.
Bonagee completed the scoring when Diver hit the goal of the game, giving Scanlon no chance with a superb effort from outside the area.
Lagan Harps: Neve Scanlon, Casey Barrett, Holly Canning, Heather Dougherty, Laura Dunworth, Bronagh Gallagher, Catherine Grier, Emily McDevitt, Danielle McDevitt, Brenda Sweeney, Courtney Gallagher.
Bonagee United: Claire Friel, Maria Carr, Coilín Hume, Niamh McCarthy, Siobhan Sweeney, Julie McCloy, Alice Diver, Shannon McBride, Claire Orr (Suzanne Gordon), Lyndsay McElcar, Natalie McFadden.
Referee: Liam McLaughlin.
Clonmany Shamrocks 0 Illies Celtic 3 
Illies cruised to a 3-0 victory against an understrength Clonmany team in this final match of the first phase of games.
Three quick first half goals, the opener from Brianna Doherty and a brace of goals from Noreen Doherty, saw this match end as a contest before half-time.
The rest of the match was keenly contested and was a good workout for both teams in a good natured game encounter.
Carndonagh FC 0 Greencastle FC 8 
(No report received from this game)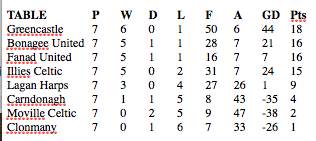 Tags: