As the summer season comes closer, there's no better time to give your home a quick makeover with a little bit of property maintenance.
Whether it's a beautiful garden you've always dreamt about, an exterior to impress the neighbours or internal repairs, Charlie Doherty can do it all.
As the owner of his Donegal property maintenance company, Charlie prides himself on delivering a five star service every time.
Leave the hard work to Charlie as he looks after your painting and decorating, spraying, fencing, landscaping, powerwashing and more. All you have to do is enjoy the results.
With over 10 years of experience, in landscaping and property maintenance, Charlie's 5 Star property maintenance is a one stop shop for all your property needs.
Hail rain on snow, they work through it all, only using top quality materials to ensure customers get peace of mind, that any job will be able to out stand all weather conditions.
Charlie's 5 Star Property Maintenance offers a full property and maintenance service, interior and exterior, including landscaping, home repairs, DIY, garden services, fencing, painting and powerwashing.  With the many services he offers, you can finally make use of that garden this summer.
Need a repair done fast or an emergency job on your property? Charlie's 5 Star Property Maintenance offers a 24 hour call out service, available no matter how small the job, including storm/wind damage repair.
They also cater for domestic and commercial cleaning, household rental, retail and private all cleaning services to a high standard finish. Get your property in shape or give your property that makeover, or a repair on your home, they cover it all to achieve a 5 star look.
For your free quotation today, call Charlie – 0861020347. Visit http://www.5starpropertymaintenance.net
"Prices will not be beaten for the quality of work we do."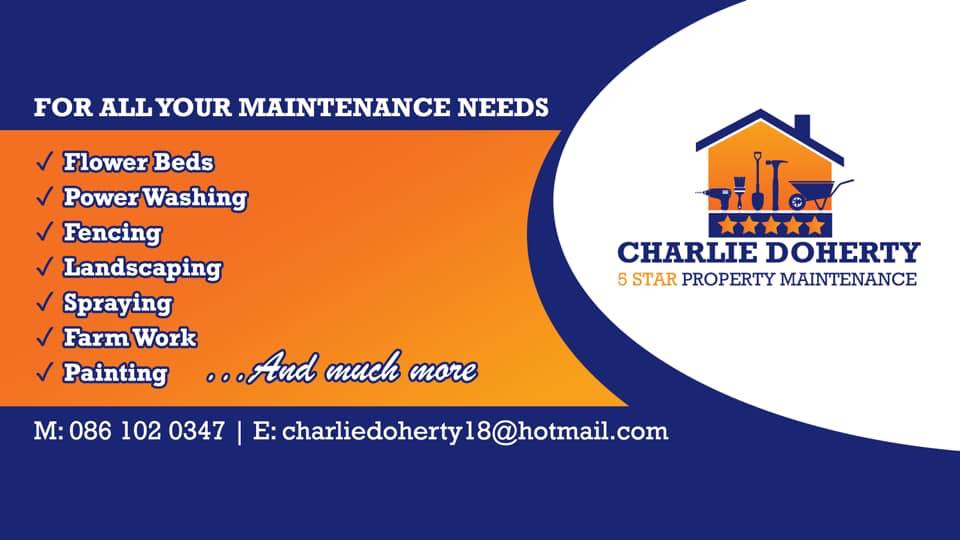 Tags: