Declan Bonner has backed Jim McGuinness to bounce back from his sacking as head coach of Charlotte Independence.
After a poor sequence of results that yielded only one win in 14 League matches, McGuinness – who had been recruited by the USL Eastern Conference club on a three-year contract – was relieved of his duties yesterday.
Last month, Charlotte lost to Florida State Soldiers, an amateur team, in the US Open Cup and are 17th in the League table – second from bottom.
"It's going to be interesting what the next move will be," Donegal manager Bonner said.
"It's difficult. but Jim has that resilience and he'll bounce back.
"You felt that he was gonna be under pressure when results didn't come in. He was very unfortunate that a lot of the games went down to draws. It's difficult. He didn't seem to get the rub of the green. It's unfortunate.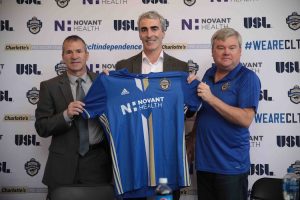 "I'm sure he's disappointed, but I'm sure he'll be back in football.
"It is cut-throat, the professional game. It's a results business. Unfortunately, Jim wasn't given the time to get the team sorted out."
McGuinness's last game as Charlotte head coach was a scoreless draw with Swope Park Rangers on Saturday.
While McGuinness has already been touted for a possible return to Gaelic football, Bonner believes that the 2012 All-Ireland winning boss will attempt to stay in soccer.
Bonner said: "He's invested a lot into it. He was excited to get taking over the job and to manage a soccer side for the first time. I'm sure it's a learning experience. Sometimes you have to get a couple of knocks before you get back up. Hopefully someone out there will give him an opportunity."
Tags: