OISIN GALLEN has one big aim for the next lap of his athletics career – earning a call-up to an Irish team.
The Finn Valley AC man returns to America next week to resume studies at the University of Tennessee at Martin, where he has begun to carve out some impressive times and performances.
Picture: Oisin Gallen in action for Finn Valley at Morton Stadium, Santry. Picture by Kieran Carlin.
At the recent National Senior Championships in Santry, the Ballybofey native finished seventh in the 1500m final. Gallen was seventh in 3:51.58, just six weeks after he broke a long-standing club record.
Noel Collins' record of 3:46.47 had stood for nine years until Gallen, while competing in Nashville at the start of June, clocked 3:46.39 – a time that would have been enough to win gold at Morton Stadium.
Gallen's time in Nasville, at the Music City Distance Carnival, was the end of his season in America before he came home and ran in the Irish U23s and Seniors.
"It's been a long season since the indoors in December," Gallen says.
I'm happy to come back and do a bit of running at home. I had a good season in the States and was about .3 of a second off a European U23 time. It was a nice jump up for me.
"I was delighted with Santry. It was the first seniors that I ever did. It was something else being in Santry on a July evening. You can't beat that.
"I was third in the under-23s so I was looking for something nice at senior level and I'm delighted with how it went."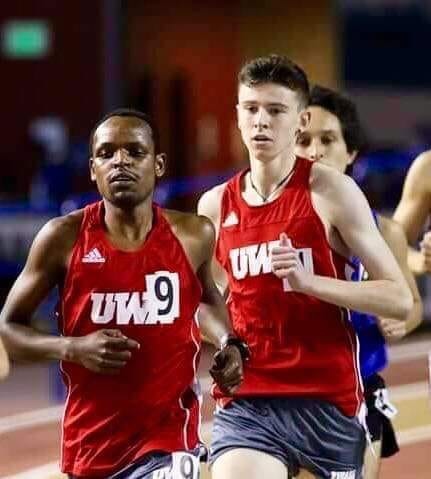 Gallen is coached by Dubliner Peter Dalton in Tennessee, having made the switch from Alabama, where he originally took up a scholarship.
He says: I'm really enjoying it in the States. I changed college this year and that was a big transition, but I have a good team and a good coach.
"The amount of competition and the quality is so different. It was the quality that drew me over there. Every race, you have to be there or you'll be left behind. It's that competition in training and in races that pushes you on."
John Travers won gold in the Irish 1500m final and Gallen was satisfied with an encouraging performanace, having caught the eye with an excellent heat.
"It went out pretty slow, just like the heats, but the boys started to move and operate," Gallen says of the final.
"They slowed down with a lap to go and were away again with a quarter of a lap to go. It's a matter of just being there and in the mix. I was. I wasn't too far away."
Things will get hectic again soon for Gallen, who is studying statistics and geography, while also attempting to keep climbing the athletics ladder.
"It's all about balance," he says.
As for his immediate aim, Gallen is quite emphatic.
"Hopefully I'll be able to make an Irish team soon," he says.
"Getting an Irish vest has to be the aim now. I'm there year-in, year-out and I want to represent my country too. Hopefully I can do that soon."
Tags: