EOGHAN BAN Gallagher has opened up on the mental challenges of recovering from a broke ankle this summer.
Gallagher shattered his ankle in the days leading up to Donegal's Super 8 game against Kerry at Croke Park in July.
An All-Star nominee in 2018, the Killybegs man had played a central role as Donegal retained their Ulster title this year.
However, Gallagher told how he felt as if his world fell apart when he suffered the injury.
"I went from being involved nearly every single day to being kind of isolated," Gallagher recalled. 
"I was just sitting in the house. A lot of my friends were away and I was kind of lonely at home. I knew I'd have a long road to recovery and that my season was over. It was tough, mentally, rather than physically.
"To be honest, I didn't deal with it well at all. I just wasn't in a good place."
Gallagher became visibly emotional as he spoke at Donegal GAA's 'Youth Matters' conference at Letterkenny Institute of Technology at the weekend.
It was clear that Gallagher was still affected by the injury and he received a thunderous applause from the packed lecture theatre as he took a moment. 
Gallagher's was a powerful discussion with MC Charlie Collins during a day-long conference at which several sportspeople, including boxer Jason Quigley, Donegal vice captain Hugh McFadden, hurler Danny Cullen and ladies football ace Niamh McLaughlin, spoke about the various challenges and set-backs they had gone through in their careers.
Gallagher suffered the injury in training at MacCumhaill Park and recalled how he underwent surgery at the end of that week.
He said: "The night it happened, it was just a freak accident at training. 
"I just heard the crack. I knew straight away. I could feel the pain.
"Everything happened so quickly. I got the operation on the Friday. I knew then my season was over.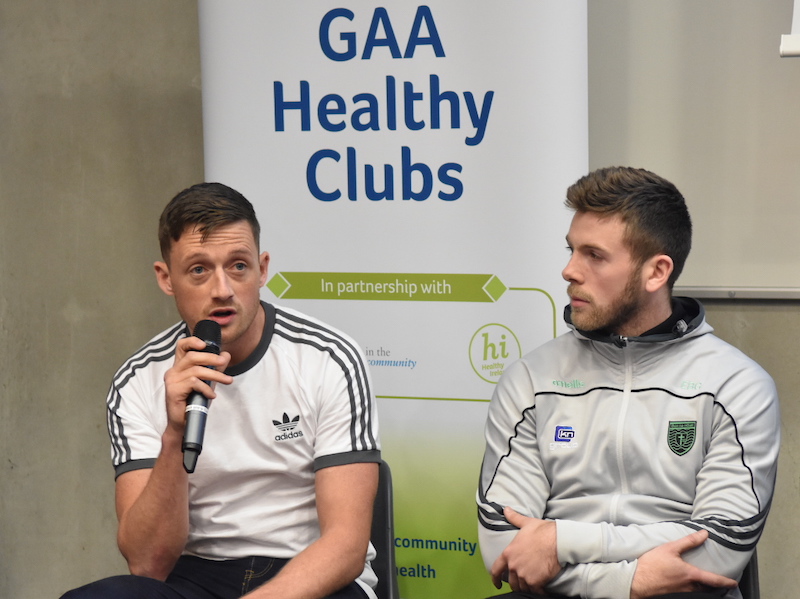 "The only thing in my mind on the Friday was if I would get to Croke Park to see the game. The surgeon just kept saying: 'We'll see'. I wasn't able to go.
"It was all taken away and I had no goals. There was no physio and I just had to sit there.
"My family and friends started to talk a lot more and I got a lot of support messages."
Gallagher worked closely with Donegal team doctor, Kevin Moran, and physiotherapist Cathal Ellis as began his rehabilitation.
He said: "They came and started talking about my goals. That was the biggest thing for me. I had something to aim for again. There was an emptiness before. 
"Getting the goals and feeling part of the team again, gradually getting back into the swing of things was important."
Donegal captain Michael Murphy visited Gallagher at home in Killybegs and took him back to training a couple of weeks later.
Gallagher said: "That was the most difficult step. You don't want to make it about you. Whenever you're at training and this is where you want to be and where you want to train, it's been taken away from you…I wanted everything for Donegal and it was very hard to take. It's still hard to take."
He aims to make a return in 2020 as Donegal go in pursuit of a third Ulster title in a row.
He said: "I'm back on track. I feel like I'm making good progress and hopefully I'll be back in the not-too-distant future." 
Tags: