It's that time of year again. #RushetoRaise is back. Letterkenny couple Maria & Emmet Rushe of Rushe Fitness and The S-Mum Blog are running their annual Christmas movie fundraiser on December 1st at 1pm.
They will be hosting a charity screening of the Christmas comedy classic, The Grinch (starring Jim Carrey) and all proceeds will go to two very deserving local causes.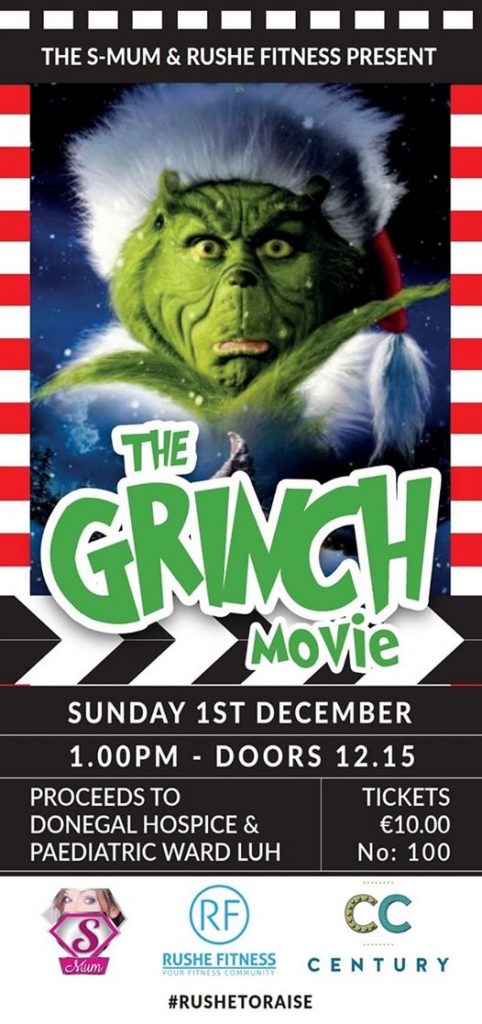 "All of us at some point, all of us parents need to avail of the Children's Ward in our local hospital." Maria decided on a recent overnight stay in LUH with her daughter, that this year's event would support the staff on the ward.
"We are communicating with the manager on the Paediatric ward to ensure that the money funds something that they need to allow them to continue to care for children and parents who find themselves on the ward. 
"And unfortunately, most of us have depended on, or will depend on, the angels in the Donegal Hospice too. This year, they were very good to a family friend and we want to donate to them as a thank you.  I don't know anyone in Donegal who hasn't some link to the Hospice."
Maria continued: "So our annual fundraiser this year is keeping the proceeds local.  It's always a wonderful family occasion and many people see it as part of their annual tradition now.  What better excuse to get family and friends together to kick off the festive season, than to laugh together and raise money at the same time?
"The Grinch is one of our family's absolute favourites and we really hope that we can once again fill the cinema on December 1st to kick off the Festive Season and to raise funds for these two brilliant causes."
Over half of the tickets have already been reserved.  
This event has sold out quickly each year, so message Maria or Emmet to reserve your tickets asap!  
The event is sponsored by Rushe Fitness and in association with Mark and the team at Century Cinemas.
Tags: