Mica and Pyrite campaigners from Donegal and Mayo supported by the Left Group at the EU will host an online international seminar this Wednesday the 23rd March 2022 at 3.30pm (Irish time).
The seminar, brings together international experts and researchers to discuss the issue of deleterious materials found in concrete and concrete products.
Hosted by The Left Group of MEPs in the European Parliament, this international workshop will draw together MEPs, affected homeowners and specialist research scientists and engineers from Ireland, Switzerland, USA and Canada.
Delegates will provide an international perspective arising from their first-hand experience/research in each country into deleterious materials (i.e. mica, pyrite, pyrrhotite) associated with defective concrete/concrete blocks, their understanding of the issue and how it is being addressed internationally.
Presentations will also be made by expert scientists and engineers with a track record of researching deleterious materials found in defective concrete/concrete products who are working with national bodies to improve standards of concrete manufacturing.
Professor Paul Dunlop, an affected homeowner, mica campaigner and academic, who is part of the organising committee stated:
"Given the scale of the defective block issue in Donegal, Mayo, Clare, Sligo, Limerick and Tipperary and the pyrite heave issue in Leinster and other counties, there is an urgent need for extensive scientific research to be carried out to better understand these issues. As we have seen in Ireland, unchecked deleterious minerals in construction materials have devastating, life-changing consequences for thousands of families unlucky enough to find their homes contains such damaging substances.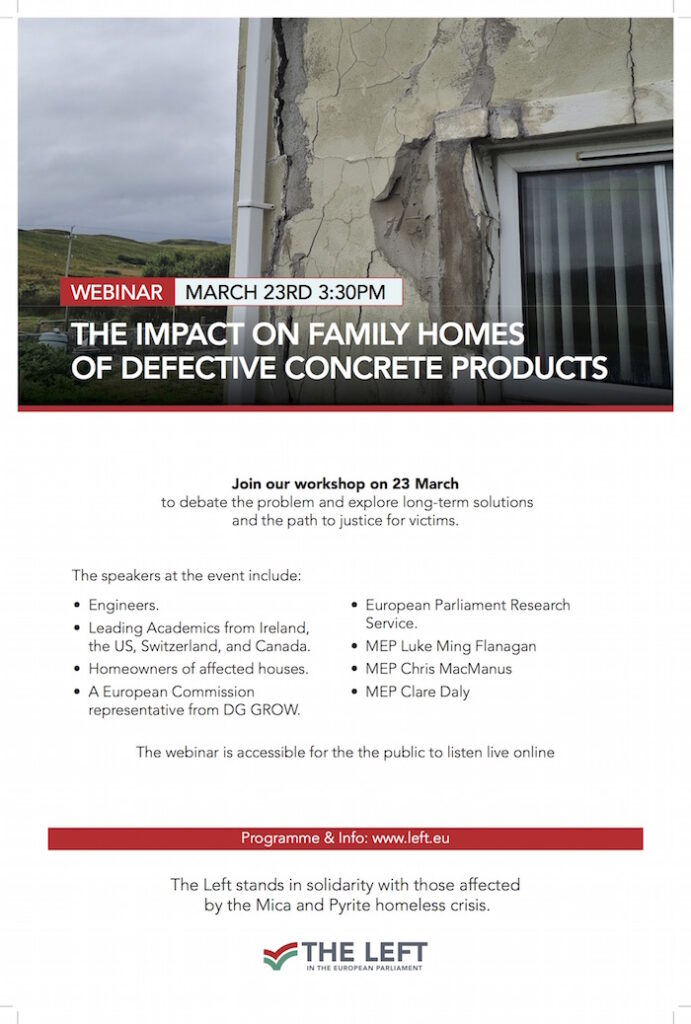 "As an academic in the Earth Sciences at Ulster University, I have been able to reach out to experts and research scientists through my academic networks and to campaigners in the United States to draw together a knowledge base.
"We have been working hard to bring such a panel of experts together since campaigners first addressed the European Parliament on this issue back in December 2021 and with the support of the Left Group of MEPs, this is the next step in our journey of taking the defective blocks issue back into the heart of the EU Commission in Brussels. We have assembled a team of geologists, concrete scientists and engineers who are committed to researching defective concrete in Ireland with the aim of providing science useful for informing national standards in Ireland.
At this open meeting attendees will have the opportunity to learn from some of the top researchers internationally about the impacts of geology, aggregates, mica, pyrite and pyrrhotite on concrete and buildings in different parts of the world, and how their research has changed national concrete standards to protect citizens. We need to ensure Ireland takes the same measures so that the defective blocks scandal can never happen again.
We would encourage everyone to register to tune in to watch the proceedings of this important seminar on deleterious minerals and their impacts on concrete.
Dr Eileen Doherty, an affected homeowner, former defective blocks working group member and part of the organising committee said:
"This issue was raised by affected homeowners on the Defective blocks working group last summer as there is an urgent need to better understand the impact of deleterious materials on concrete products.
"The Left Group have kindly supported and facilitated us in bringing together these international experts and international campaigners to further our knowledge and understanding of this issue. Ultimately it is important for us to know how these minerals impact on concrete blocks over time as well as how they interact with each other when found in concrete products.
"Not enough is known about this phenomenon to date and the knowledge from this international team of experts must be harnessed to inform the IS465 protocol on defective concrete blocks which is planned for revision over the coming months.
"Simply put, we need to better understand if an outer leaf replacement is the appropriate remediation option in the case of homes with multiple deleterious minerals found in the blocks? Many of our homes have been found to have mica, but also pyrite and pyrrhotite. At what levels are these materials/minerals likely to progressively impact the structural integrity of our homes? The answer to these questions and others is something we hope that this international team of experts in this area can shed light on once and for all.
To register for the event: https://bit.ly/3Jxukwt
To watch the event live, click here (link here). https://left.eu/events/the-impact-on-family-homesof-defective-concrete-products/?fbclid=IwAR3_gH46l2SdTX4jLsEHpAeHU1AyVL7TNtvysDJ5kAbboes8UHtXqeUrn3k