A big dream has taken flight for Moville woman Geraldine Mullan. 
This October, Geraldine will pilot a unique event at the Mullan Hope Centre in honour of her late daughter Amelia and in celebration of all things aeronautics.
Amelia Mullan would have celebrated her 10th birthday on October 8th. Sadly, the bright and bubbly schoolgirl passed away at the age of six, along with her dad John and big brother Tomás (14) in a tragic car accident at Lough Foyle on August 20, 2020. Geraldine was the sole survivor.
Geraldine established the Mullan Hope Centre in the aftermath of the tragedy as a way of giving back to her community and honouring the legacy of her family.
From Thursday 5th – Sunday 8th October, the centre will be buzzing with activities to remember Amelia and to celebrate another inspirational Amelia – Amelia Earhart. Funds raised will support the RNLI charity.
The aim of Amelia's flight of HOPE, Geraldine says, is to encourage children to 'Dare to dream, dare to believe'.
The following article has been contributed by Geraldine Mullan:
My Amelia, this October 8th marks her 10th birthday and another difficult milestone for me.
To mark her birthday in a positive way, I am hosting a four-day event (Thursday 5th – Sunday 8th October) called Amelia's flight of HOPE.
My Amelia shares her name with that of Amelia Earhart, a pioneering woman. 
For kids, Amelia's flight of HOPE is about educating them about this amazing woman, who saw no boundaries, had no fears, and excelled in many aspects from being an aviator, to an engineer, to name just two accolades to her name. 
91 years ago, she flew across the Atlantic, landing very close to here in Ballyarnet, Co Derry, and showed what was possible if you believe. 
So, to show kids to follow their dreams and to know anything is possible if you put your mind to it, on Thursday 5th and Friday 6th, pupils from 4th, 5th and 6th class from different schools in Inishowen, and from P5, P6 & P7 from different schools in Derry are booked to come into the centre for an interactive, fun, educational workshop. 
There is a replica of Amelia Earhart's plane onsite, and huge thanks to Michael Cavanagh and Gary Mc Monagle who have restored the plane to its former glory, so attendees will be able to get their selfie taken in it.
In partnership with The Nerve Centre, Derry, and The Fab Lab in Spraoi agus Spórt, Carndonagh, a curriculum has been written focusing on the STEM (science, technology, engineering and maths) subjects and the pupils are currently working on it with their teachers, before attending in person next week. 
The students will get to do a simulation in Tomás' tunnel of what the flight was like for Amelia Earhart 91 years ago. They will make glider planes in Amelia's tunnel and launch them, putting into practice what they've learned in the classroom. Our very own 'Amelia Earhart' will be there in person to regale them with tales of her adventures. With input from the wonderful ladies from the Amelia Earhart Legacy Association, the kids will learn in a fun, engaging way. The Northwest Amateur Radio Club will also be there, so the kids will learn more about how Amelia navigated her flight, and an action packed two days are guaranteed.  
The Mayor of Derry Patricia Logue and the Mayor of Inishowen Terry Crossan are coming on Thursday to officially launch the initiative. 
For older people, i.e., adults of any age, it's about showing them too that it's never too late to chase that dream. If you want to change your job, career path, personal path, it's possible. As we get older, we become more fearful about taking risks and we hesitate about making a change, or trying something new. We're afraid of the possibility of it not working out, so the idea with Amelia's flight of HOPE for any age group, is to inspire you that it is possible to take that chance, to make a change. It's never too late. 
Had things been different I would have been telling my little lady to chase her dreams, that anything was possible and to always believe, so to mark her 10th birthday, this project will help me get through an unbelievably difficult time.
Saturday and Sunday's events are suitable for all ages and aim to inspire and instil hope and allow families to create new memories.
We'll be looking for the best dressed Amelia, so get your costumes ready or wear something red and yellow, in keeping with Amelia Earhart's favourite colours and those of her plane.
There'll be lots for kids to do, plenty of selfie opportunities – remember to tag #Amelia'sflightofHOPE – music by Mood Swings & Agon, and the inspirational Kathy Donaghey and Danny Quigley will be with us on Saturday afternoon. Our tree of hopes and dreams will be there for everyone to write and share their own hopes and dreams.
On Sunday, we're delighted to have The Gateway Singers choir from Buncrana lined up to sing a special commissioned written piece Dare to Dream, as well as other beautiful songs. 
The Amelia Earhart Legacy Association Ladies and Vintage Star from Derry will be there on both days. They are a wealth of knowledge on Amelia Earhart and will entertain guests with tales of her adventures.
Sunday is my Amelia's birthday, and again I'm humbled and honoured by everyone's support and generosity in getting this project to fruition. Eglington Flying Club, who I had the privilege of visiting last week, are doing a flyover (weather permitting) at 2:30pm. They will leave Eglington airfield, fly over Ballyarnet where Amelia Earhart landed and then continue to The Mullan Hope Centre. 
I close my eyes and can see the amazement, wonder and joy in my Amelia's eyes the idea of planes flying over her home to mark her heavenly birthday; a very apt way to mark the end of the four-day event. 
The aim of Amelia's flight of HOPE is to inspire, to remember anything is possible if you put your mind to it and to remember a little girl in a positive way on her birthday. 
Check out the Mullan Hope Centre's social media platforms Facebook and Instagram for more details. 
Please note Thursday and Friday's events are fully booked. Everyone is welcome on Saturday and Sunday. Admission is free. There will be an option to make donations on the day and funds will go the RNLI, our chosen charity for this event.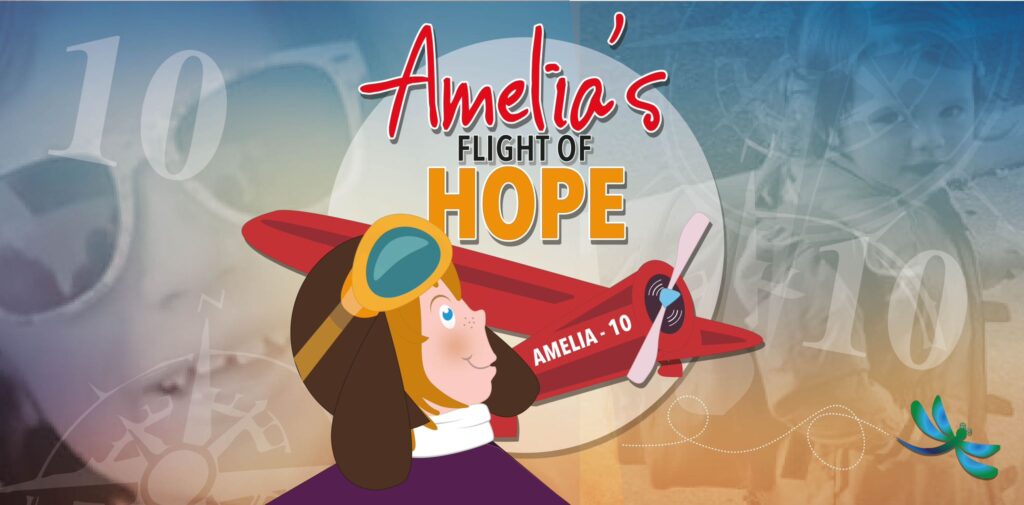 Tags: