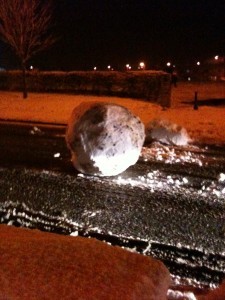 A GANG of youths caused havoc in Letterkenny after they blocked a main road with a GIANT snowball.
More than 20 youths between the ages of 8 and 16 rolled two large snowballs onto the Circular Road near Ballyboe Park – almost completely blocking the road.
The youths then ambushed passing drivers with smaller snowballs as they slowed down to try and pass the giant snowball.
Drivers were forced to mount footpaths to avoid the snowballs and an ambulance was even delayed as it made its way to an emergency call.
The incident has been slammed by local Fine Gael councillor Jimmy Kavanagh.
He said the incident lasted for more than an hour and said that anyone who tried to approach the youths was verbally attacked.
"No one wants to deny kids their fun in the snow, but this sort of activity is dangerous and could lead to a serious accident.
"I would call on parents in the area to make sure they know where their kids are, and what they are up.
"I would also ask the Gardai to be more vigilant and aware of this type of activity during periods of snowfall. 
"It's ridiculous that something like this can go on for such a long time uninterrupted on one of the busiest roads in the town," he fumed.
Ends
MMMM