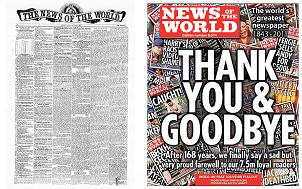 A Donegal-based former tabloid editor has described the publication of the last edition of the News of the World today as 'breathtaking'.
Roy Greenslade is a former editor of the Daily Mirror and commentator for the British newspaper The Guardian.
And writing for that newspaper, Greenslade says he believes today's demise of the tabloid with the loss of more than 200 jobs was a "breathtaking, but entirely proportionate, response to the crisis that was engulfing the paper and Rupert Murdoch's News Corporation."
The journalist insisted Murdoch had to do something because of the shocking revelations surrounding the hacking into telephones of innocent people, including the phone of murdered English teenager Milly Dowler.
However he believes a new Sunday paper will emerge.
"With Wapping staff having been told they will move to a seven day operation, does it mean the king will live on in a different guise?
"Will we be getting a Sun on Sunday? (The Sunday Sun title already exists in Newcastle, and Murdoch once tried to obtain it 30 years ago). If so, will it mean a clear-out of the current News of the World editorial?"
He added: "This should not draw a line under the whole scandal. To close one title and open another cannot stop the inquiries into what happened, and who did what and to whom and why.
"The Screws has been screwed. Indeed, it screwed itself. But now, to continue the analogy, it's time to nail the truth."
More than 30 journalists in the Dublin office of the newspaper lost their jobs last night.
Its former Irish editor Alex Marunchak is among a dozen suspects who will be questioned by police in England about phone and computer hacking.
The Irish edition of the tabloid sold more than 3,000 copies in Donegal every week.
Tags: