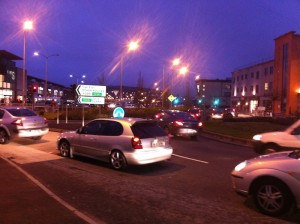 GARDAI are asking shoppers to be patient this evening because of long traffic delays in most of our major towns.
Letterkenny is particularly bad – mainly due to poor driving.
Traffic on all major routes into the town are very slow.
For example cars tailed back from Oldtown to well past Scoil Cholmcille boys school.
Many drivers are choosing to turn back rather than wait.
But they aren't being helped by motorists choosing to block box junctions on several routes.
One motorist told donegaldaily.com: "The traffic isn't that bad. It's the driving that's bad."
A Garda on a bicycle was ticking off some motorists for blocking roundabouts at that end of the town.
Traffic is also very slow in Donegal Town and in Buncrana as people try to grab last minute Christmas presents.
But spare a thought for anyone mad enough to have gone to Derry this evening.
The PSNI are reporting delays of up to 90 minutes in and around the city, with queues to Foyleside tailed back beyond the Craigavon bridge.
It's the same story in the Waterside.
© 2011 donegaldaily.com, all Rights Reserved
The copying, republication or redistribution of donegaldaily.com Content, including by framing or similar means, is expressly prohibited by law.
Follow us on www.twitter.com/donegaldaily
Follow us on www.facebook.com/donegaldaily
Sell anything on www.donegaldailyclassifieds.com