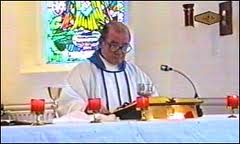 A BBC documentary on clerical sex abuse in Co Donegal tomorrow night will see victims of Father Eugene Greene tell their story to a global audience.
Greene abused dozens of boys in several Raphoe parishes in the 1970s, 80s and 90s despite the father of two victims making a complaint to a parish priest.
The BBC1 programme will be shown in the North tomorrow night at 10.30pm – and then across the UK on Wednesday on BBC2 at 9pm. It will also be shown on the BBC World channel which is seen in more than 100 countries.
Called 'One World: The Shame of the Catholic Church' the documentary will feature victims of Greene.
The TV investigation is fronted by reporter Darragh McIntyre who used to live in Gortahork.
Many of Greene's victims are from the same parish.
It's understood the programme will focus on how a complaint in the mid-70s was dealt with and how Greene went on to abuse more victims despite that complaint.
Last November the Bishop of Raphoe, Dr Philip Boyce described as "extraordinary" the fact that no evidence was found of complaints against notorious paedophile priest Greene who was jailed for 12 years.
He said a father of one victim claimed he had written to former Bishop of Raphoe Dr Seamus Hegarty but no trace of the letter could be found.
"We couldn't find any trace of letter. I expressed my sincere apology to these people and something should have been done but there was no trace of the letter until it came out in the court case. There was no copy of the letter.
"That is extraordinary. It may reflect on the culture at the time. To my knowledge nothing was destroyed since I came into the Diocese," he said.
He added that Bishop Hearty was quite meticulous and he did not believe he destroyed any letters.
"The letter wasn't there and it's a great disappointment that it wasn't. I am truly sorry for what happened and nothing was done at the time. "It was the 1970s and we weren't aware of the damage that child abuse could do. It makes me all the more determined to make our parishes a safe place for our children," he said.
Bishop Boyce added a press conference following the publication of an audit of the Diocese that there has not been any letters of complaint from survivors of child sex abuse.
""It is quite incredible but that is the truth," he said at the time.
Tags: