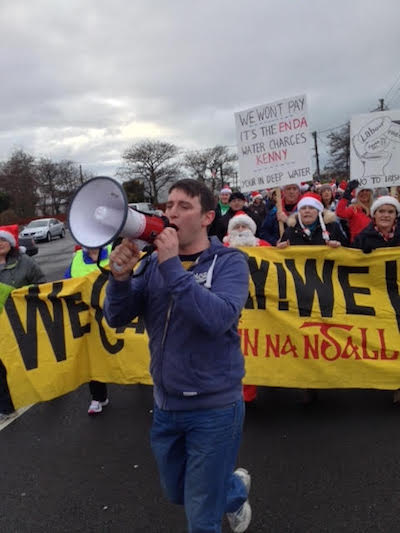 The Can't Pay Won't Pay campaign in Donegal has called on people to uphold the boycott on water charges and to consider their options carefully in the run up to to the upcoming general election.
Spokesman Liam Whyte has called on people to vote for candidates who support a boycott of water charges in the general election.
"This last 18 months we have seen resistance on a massive scale with movements all over the state opposing water charges . With local and national demonstrations reaching figures of unprecedented levels we have already seen the government back track by reducing the charge and bringing in a water conservation grant .
"With the general election on the horizon many are hopeful that a new government will bring about the abolishment of water charges but it looks like we will see Fine Gael return to government in a coalition with a like minded party be it Fianna Fáil, Labour or Renua."
Can't Pay Won't Pay believe for this reason that the boycott will be the defining tactic that will defeat the water charges .
"We believe that the national R2water campaign at national and local level have missed a trick in not calling for a boycott and have left people exposed to election results and after the election the movement will be left a lot weaker . So far more than half of the people liable for water charges have refused to pay and with such strong numbers it will be impossible for the incoming government to continue with the water charges."
Tags: