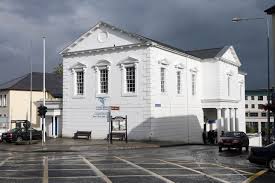 COURTS: A man who threatened to burn his wife out of it and wielded a hatchet at her – has been given a suspended sentence. 
Michael Connors, 43, with an address at 3 Canal Road, Letterkenny appeared at Letterkenny District Court yesterday afternoon in relation to charges ranging from drink-driving, threatening to kill and assault.
The court heard how the defendant had threatened to burn his wife Patricia Connors out if during an incident in February, 2013.
He also wielded an hatchet, and smashed a window during the drink fuelled rant.
A victim impact statement given to the court by Patricia Connors was read out a previous court hearing in relation to these offences.
Mrs Connors said at that sitting, "I knew things were going to get bad again and there may be an issue with him drinking.
"I went off to bed at 11pm, but at 3m I was awoken by Michael banging at the window.
"He was shouting, Get out you whore, I'm going to burn you out of it, you're nothing but a whore.
"I went into the sitting room and he was banging at the window and was holding a hatchet.
"I was terrified and I ran back into the bedroom, but he kept thumping at the window with the hatchet.
"I then heard the glass smash, and I started shouting at him that I had called the guards and that they're on their way."
The court were also told that shortly after this, Mr Connors was again at the centre of a row – this time with another family member, and during that incident brandished an eight-inch steel rod, and was only in possession of a pocket knife.
Solicitor for the defendant Patsy Gallagher told the court that his defendant had a serious issue with alcohol, and that he had resolved the issues with his family.
Gallagher told the court, "My client has had serious, serious issues with alcohol in the past, it was a family dispute that got out of hand.
"Thankfully, that has resolved itself, and my client has also got his drinking under control.
"He fully accepts what he did was wrong, and is profoundly sorry for his actions and knows there are inexcusable.
"However, because he has resolved these issues, and the fact it's been some time since the last matter, I'd plead with the court to give the defendant a suspended sentence."
Judge Paul Kelly had ordered a probation report on the defendant at a previous sitting, and had warned Mr Gallagher that his client may well receive a custodial sentence.
However, Judge Paul Kelly was satisfied with the probation report on Mr Connors and that the issue with his family had been resolved.
He sentenced the defendant to six months in prison, but suspended the sentence for a period of two years.
He also ordered that Mr Connors complete 100 hours of community service.
Tags: