Coming Out: In the final part of Ayrton Kelly's column series on LGBTI+ life, he shares a guide on how straight people can show their support to the Lesbian, Gay, Bisexual and Transgender community and equality for LGBT people.
Read Ayrton's first four posts here:
– Growing up Gay in Donegal
– 'New Year, New Me' was never so true
– We have come a long way for LGBTI+ Equality. but we can still do better
– What does the future hold for young LGBTI+ people in Donegal?
by Ayrton Kelly
We've all heard Gandhi's 'be the change you wish to see in the world' quote but seldom do we believe it or act on it. In recent months, there has been a movement to curb the world's use of plastic, single-use straws.
People have a tendency to think, 'I couldn't have an impact on my own' but hundreds of thousands of individuals not using single-use plastic is hundreds of thousands of straws that are not polluting our seas, beaches and land.
In the very same way, if you're straight or gay, cis or trans, young or old, a parent or teacher, you can have a huge impact on the lives of young LGBTI+ young people around you, and leave a lasting impact for future generations.
How to be an ally
Don't underestimate your

individual impact

– being that one person who stands up for your classmate can have a huge effect. But the opposite is also true, a little joke can also have a hugely negative effect.

'

Live and let live'

as the saying goes. If someone identifies as male despite being assigned female at birth (transgender male) or if two guys are shifting in Voodoo, it

literally

doesn't affect you in the slightest so let them at it. Honestly, The World has Bigger Problems Then Boys who kiss Boys and Girls who kiss Girls.

If you don't understand, then

accept and respect

. I have worked with the

Department of Children and Youth Affairs

on this strategy for the past year and a half so understand the different terminology quite well and what they mean. But it wasn't always like that.

For parents, check out BeLonG To or TENI's websites – they have some really good advice. But overall, don't worry.

Your child will be OK

and the best thing you can do is to love and support them. Their coming out will change nothing. With that said, it's okay to be shocked and take time to absorb.

For young people stuck in the closet,

talk to someone you trust

(like someone from the Donegal Youth Service) and remember all will be fine. Give your parents and family time as well – you've had a long time to come out to yourself and your parents might need some time.

For businesses, you have your part to play too. For many years, business has been portrayed to have a sole purpose of maximising profits but it's more than that. Business is

for

and

in

society and it has a responsibility to embrace and support diversity. So next June, throw up a Pride flag on your window and

bring awareness about equality to your business

(not just for LGBTI+ people, but for everyone). Hit me up if you want me to talk about the business case for employees and customers feeling valued, included, happy and accepted.

For teachers and educators, there are a number of resources below. Encourage your principals and boards of management to

be proactive

, review policies, act on homophobic and transphobic bullying and create a welcoming environment through events like BeLonG To's Stand Up week to empower your students.
Resources (for parents and baby gays alike)
Being LGBT in School – Post Primary School Resource

(DES & GLEN) (

https://www.education.ie/en/Publications/Education-Reports/Being-LGBT-in-School.pdf

)

BeLonG To (

http://belongto.org/)

BreakOUT (

http://donegalyouthservice.ie/dys-projects/breakout/

)

Donegal Youth Service (

http://donegalyouthservice.ie

/)

Gay Switchboard Ireland (

https://www.facebook.com/GaySwitchboardDublin/)

LGBT Ireland (formerly LGBT Helpline) (

http://lgbt.ie/)

LGBT Safe and Supportive School's Toolkit

(HSE & BeLonG To) (

https://www.healthpromotion.ie/health/inner/lgbt_toolkit

)

National LGBTI+ Youth Strategy

(Department of Children & Youth Affairs) (

https://www.dcya.gov.ie/documents/20180628NatLGBTIYouthStrategy.pdf

)

National Sexual Health Strategy 2015-2020

'. (Department of Health) (

https://health.gov.ie/wp-content/uploads/2015/10/National-Sexual-Health-Strategy.pdf'

)

Spunout (

https://spunout.ie/life/category/lgbt

)

TENI (

Transgender Equality Network Ireland) (http://teni.ie/

)

The LGBTIreland Report

(GLEN, BeLonG To, Trinity College Dublin) (

http://belongto.org/wp-content/uploads/2018/05/LGBT-Ireland-Full-Reportpdf.pdf

)

The No-Nonsense Guide to Sexual Diversity

(2

nd

Edition) (V. Bird, 2007) (available on iBooks)

Trans Student Educational Resources (TSER) (

http://www.transstudent.org

/)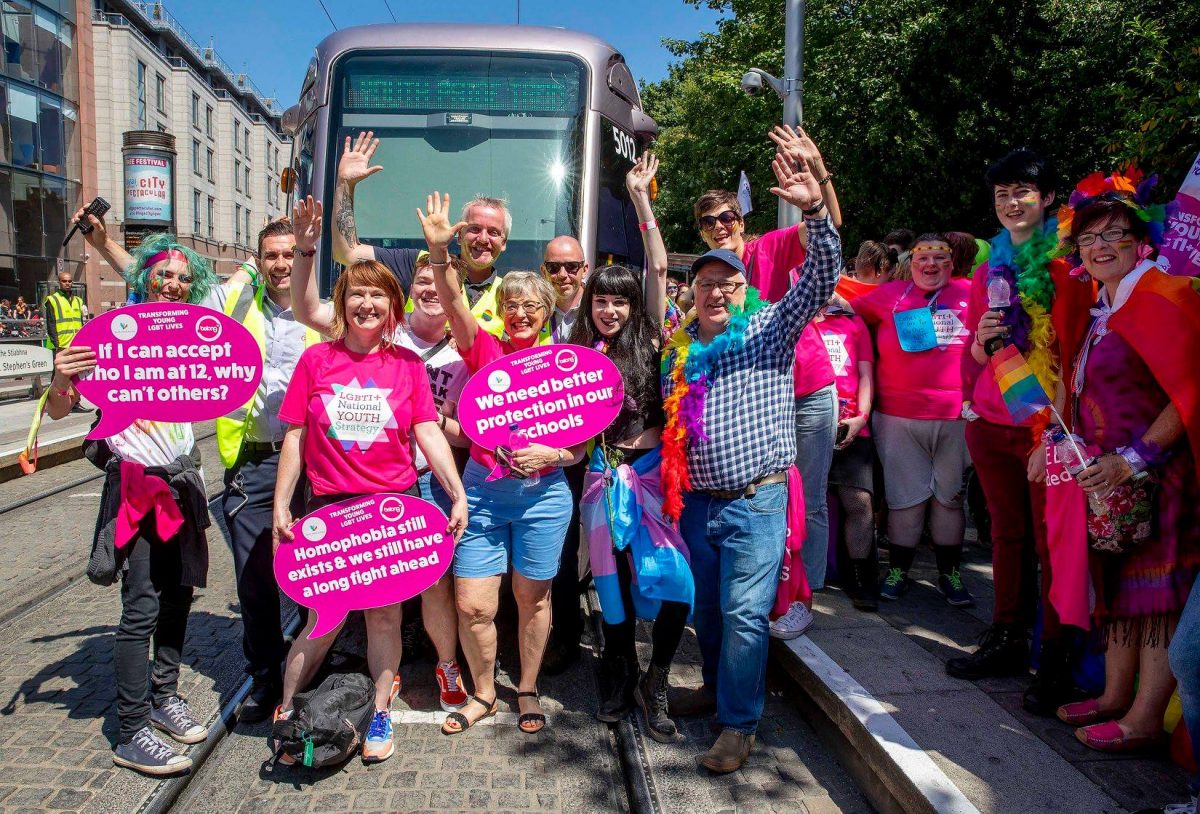 Videos, films and documentaries
My Trans Life (RTÉ, 2018) (

https://www.rte.ie/player/ie/show/my-trans-life-30005263/)

Queer Britain (BBC, 2017) (

https://www.youtube.com/watch?v=yPMRrn10OKE&list=PL64ScZt2I7wGfMyIfZkI0WCEm3k3m-k1l)

Growing Up Gay – Olly Alexander (BBC) (

https://www.youtube.com/watch?v=jc17YyzSgYc

)

Why is Gender Identity so Important? (Rikki Arundel for TEDx) (

https://www.youtube.com/watch?v=IFBU7h7fqLc)

Queen of Ireland (Universal Pictures) (Available on iTunes)

The 34

th

(Release in August) (

https://ifi.ie/the-34

th

)

LGBT films on Netflix are always a good decision
---
---
Ayrton Kelly is 20 years old and from Letterkenny, Co. Donegal. He is studying Business and French in UCD and before that attended St Eunan's College. By working with Donegal Youth Service, UCD Students' Union, Foróige, Youth Work Ireland, BeLonG To and the Department of Children and Youth Affairs has become interested in equality and social Justice. Most recently, he was on the Youth Advisory Group and Oversight Committee for the National LGBTI+ Youth Strategy.
BreakOut is a project for young LGBTI people, LGBTI Allies and young people that believe in social justice aged 12-30, and is operated by Donegal Youth Service.  Currently there are groups meeting up regularly in Letterkenny, Ballybofey, Glenties and Moville offering information, training, one-to-one support and guaranteed craic. If you would like to come along and see what it's all about contact Sinead Murray on 074 91 29630/086 124 7968, pop in to 16-18 Port Road, or find BreakOut on Facebook.
Tags: