Japanese Knotweed has been a cause of much concern for land and home owners in Donegal in recent years.
Ireland has been tackling an infestation of the Invasive Alien Plant Species which can spread at rapid rates if not controlled.
Japanese knotweed has become a serious problem in Ireland and due to its aggressive spread and speed of growth causing extensive damage to building and structures.
Infestations can seriously affect house values too. In extreme cases, the presence of Japanese Knotweed on a property has been found to reduce the property's worth by up to 50%.
Donegal County Council has carried out extensive work to alleviate the problem on public property and roadsides, however the council has no authority to treat infestations on private lands.
The Japanese Knotweed Killers at Ecoweed Control Ltd have expanded their services to Donegal for the private management, control and removal of Japanese Knotweed and other alien invasive plant species.
The local specialists have over 24 years experience in their field and offer a number of effective solutions to controlling Knotweed, including the herbicide-free RootWave electrode weed control.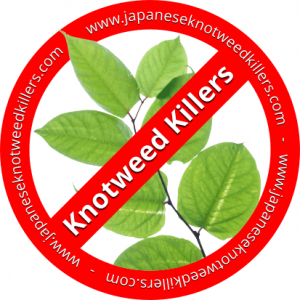 Here, the Ecoweed Control Ltd. team share their expertise on Japanese Knotweed and how they can safely eradicate the problem plants:
Why Is Japanese Knotweed A Problem?
Japanese knotweed has become a serious problem in Ireland and many other parts of Europe due to its aggressive spread and speed of growth causing extensive damage to building and structures.
Having Japanese knotweed can seriously affect the value of properties and prevent the approval of planning permission for site development.
What are the risks of having knotweed on your property?
Having knotweed on your property can be more than just a nuisance. Apart from the physical risks of damage to building and structures you may also find problems gaining home insurance, mortgages and planning permission for alterations or development. There is also the risk of litigation from neighbours where knotweed has spread from your property to another and the resale value or the property will be adversely affected.
PJ Larkin of Ecoweed Control Ltd. said:
"We are aware of many cases where sellers, knowing they have a problem, have just cut down the plant at ground level and then laid lawn to cover any signs of the plant. It will quickly re-grow but by then the seller hopes to have sold the property to an unsuspecting buyer
"Failing to spot Japanese Knotweed in the garden of a home you plan to buy could result in you may end up buying in a devalued property that you cannot easily re-sell.
"If Knotweed is present, you can insist that your buyer initiates and pays for the treatment program before exchange.
"Alternatively (and assuming the lender agrees), it may be a question of agreeing some reduction in the asking price to cover the cost of future treatment, if the property is otherwise satisfactory."
Want to be a have-a-go hero?
We have been treating and controlling knotweed for over 24 years. We are often confronted with customers who feel that they can get the job done and just want to know what we use to control knotweed.
We have discovered desperate people trying DIY methods of over the years, like digging, burning, cutting, herbicides and composting, to name a few. Many of these methods do not work and make the infestation much worse.
What does the government need to do?
PJ Larkin said: "There is an onus upon the Government to undertake an awareness programme about the issue. The Government needs to URGENTLY  introduce consumer protection legislation here, similar to that of the UK."
What you really need is Japanese Knotweed Killers – the Knotweed Removal Experts.
Why?
Our customer always comes first. We constantly strive to exceed your expectations.
Our Rootwave t.m. revolutionary electrode treatment – controls Japanese Knotweed in over 1/2 the time of conventional treatment methods!
RootWave is the leading solution to organically kill weeds without using chemicals.
It was established with over 28 years experience and delivered by a fully qualified expert team of botanists, agric. scientists who can provide a number of solutions for your site.
Each case has dedicated project managers for all site works.
All the Knotweed Killers' projects are followed by a full validation report.
24hr Nationwide responsive service
All work fully guaranteed
The best solution –
Get a professional expert to deal with your problem. You'll find this more cost effective and you'll be able to sleep at night!
Ecoweed Control Ltd. is always happy to help solve your problem, however we respectfully reserve the right to decline intervention where we consider a site has been incorrectly managed.
For more information on knotweed control and management visit our website: www.japaneseknotweedkillers.com
Call one of our experts today: 0862508805 
Ecoweed Control Ltd – Ireland, UK and Mainland Europe
---
Sponsored Post
Tags: