A DISSIDENT Republican suspect was remanded in custody today accused of a murder bid on an off-duty policeman almost six years ago.
Kieran Maguire was taken from Portlaoise Prison by Gardaí on Tuesday and driven to the border, where he was handed over to officers from the PSNI's Extradition Unit.
The 33-year-old, of Kippure Park, Dublin, was then whisked by car to the serious crime custody suite Musgrave PSNI Station in Belfast for processing.
Previously, Maguire was arrested in Killygordon, Co Donegal in connection with the incident in 2015.
He appeared via videolink at Derry Magistrates' Court from the same police station today charged with the attempted murder of an off-duty policeman in Eglinton, Co Derry on June 18, 2015.
He was further accused of possessing explosives with intent to endanger life.
A police officer confirmed that the warrant for Mr Maguire's arrest in the Republic of Ireland had been processed in 2017. The officer also said he believed he could connect the defendant to the charges.
The defendant did not speak during the brief hearing and nodded when asked to confirm his identity.
A defence barrister said there were no issues with the warrant and that there would be no bail application.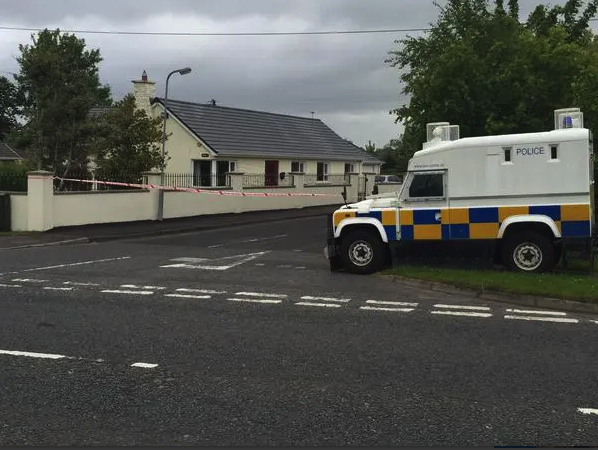 A representative for the prosecution said that there was a co-accused in the case who had been returned for trial at the end of last month and the intention was to join the two cases.
She asked for a four-week remand and said it was hoped that it would be possible to set a date for a preliminary hearing then.
Maguire was remanded in custody to appear again on May 19.
In May 2020, another suspect, Dublin man Sean Farrell (35), was arrested in Scotland after fleeing the Republic while on bail.
He faced Belfast Magistrates' Court and was charged with attempting to murder the off-duty officer at his Eglinton home on June 18, 2015.
Farrell, with a previous address of Kilfenora Road, Crumlin, was charged with a further count of possessing explosives with intent to endanger life.
In February 2020, the High Court in Dublin ordered Farrell's extradition to the North of Ireland. But according to police, he went missing the following month.
A detective from the PSNI's Major Investigation Team opposed bail and claimed Farrell would go on the run again if released.
"We believe he is a member of the IRA and that he used his republican connections within the IRA to leave the Republic of Ireland and get to Scotland," said the detectives.
"If he gets out, with all his connections, he will do the same.
Despite the offer of a £10,000 surety, bail was refused due to flight risk and Farrell was remanded in custody to the top security Maghaberry prison.
Farrell, Maguire and Sean McVeigh were stopped by the crack Ballyshannon-based Garda Specialist Response Unit in the early hours of June 19, 2015 in Killygordon, Co Donegal.
They responded to PSNI calls for assistance after their Passat car failed to stop for police on Derry's Foyle Bridge and made a bolt to the Donegal border.
McVeigh is currently serving a 25 year sentence after he was convicted at Belfast Crown Court in February 2019 of attempting to murder the police officer and possessing explosives.
The trial judge said he was firmly convinced McVeigh was the man who planted the bomb under the officer's car.
Tags: