A huge crowd of more than 3,000 parents, pupils and teachers vented their anger against the Government today as they marched in Letterkenny against the latest education cuts.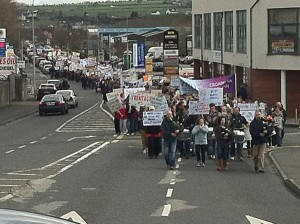 Hundreds of children from schools in Ballyshannon, Fanad, Carrigart, Raphoe, Bunbeg, Gaoth Dobhair, Falcarragh, Glenties, Glenswilly, Buncrana and many other places carried placards and chanted slogans in protest.
Led by three bag-pipers, the huge crowd walked down Letterkenny Main Street holding placards called for Education Minister Ruari Quinn to resign while one said 'Ruari Quinn – Bottom of the class.'
Pupils came by foot, car, bus and even boat from Arranmore Island to protest at the recent cutbacks which will see Donegal lose at least 30 primary teaching post come September.
The group met on the Port Road near the LYIT and marched up the Port Road and onto Letterkenny Main Street before converging at Market Square.
There a number of speakers address the huge crowd with the same message – reverse the cuts.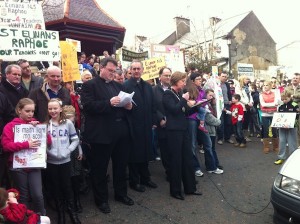 Parish Priest of Arranmore Island, Fr John Joe Duffy, said people were not going to stand by and watch children's future thrown away.
"We will not stand by and watch out children's future being eroded by this Government. Our children deserve to be protected.
"Our fear is real fear – for al our schools. We should stand united and tell the Government – 'Stop these cuts, reverse these cuts and give our kids a future," he fumed.
He then encouraged the large crowd to chant "Shame on you Ruairi Quinn."
President of the Irish National Teachers Organisation, Noreen Flynn, said the future of Ireland's children could not be gambled away.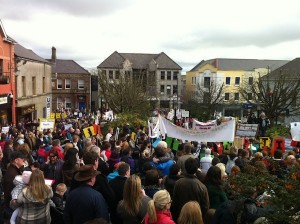 "We will not stand by and watch our children's futures being sacrificed for the good of the Celtic Tiger Ministers and their obscene pensions and lump sums.
"We are calling on the Minister to speak to the people and lay out his plans," she said.
Among the many politicians who gathered for the protest rally were MEPS Pat The Cope Gallagher (FF), Marian Harkin (IND), Joe McHugh TD (FG), Charlie McConalogue (FF), Pearse Doherty TD (SF) and Senator Brian O'Domhnaill.
Ends
Tags: