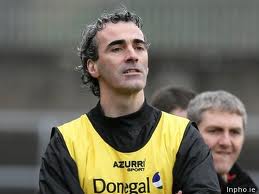 FOURTEEN-MAN DONEGAL put in a fighting performance against Laois in Portlaoise this afternoon, but went down by four points – and will now play the same side again in this year's Division 2 league final.
The Tir Chonaill boys eventually lost by 1-15 to 1-11, but it was a gustsy performance with Rory Kavanagh shining for  Donegal.
MJ Tierney scored 1-10 for victors Laois as both the midlanders and Donegal secured promotion to Division 1 of the Allianz Football League.
These sides claimed the top two positions in Division 2 and will meet in the final in two weeks' time at Croke Park.
Free-taker Tierney had Laois leading by 0-09 to 0-03 at half-time in Portlaoise and although Dermot Molloy netted for Donegal, who had Michael Hegarty sent-off, the hosts prevailed by four points.
Molloy's goal was superb – a real team effort, Donegal working the ball from defense through a wonderful series of hand passes, before Molloy fired home in the 50th minute.
Meanwhile at the bottom Meath survive and Sligo and Antrim go down, the latter team hammered by Derry.
In the hurling, Donegal had a goal to spare over Sligo.
MORE TO FOLLOW:
TODAY'S RESULTS;
Allianz Football League – Division 1
Cork 2-15 1-12 Armagh RESULT
Monaghan 1-18 2-13 Mayo RESULT
Galway 0-15 2-09 Dublin RESULT
Kerry 1-13 1-11 Down RESULT
Allianz Football League – Division 2
Laois 1-15 1-11 Donegal RESULT
Kildare 0-16 1-12 Sligo RESULT
Antrim 0-13 1-18 Derry RESULT
Meath 0-17 1-14 Tyrone RESULT
Allianz Football League – Division 3
Waterford 0-11 1-11 Louth RESULT
Limerick 2-12 0-14 Wexford RESULT
Westmeath 0-19 2-11 Offaly RESULT
Cavan 0-14 0-06 Tipperary RESULT
Allianz Football League – Division 4
Roscommon 1-14 0-15 Leitrim RESULT
Wicklow 1-17 0-20 Clare RESULT
Fermanagh 0-14 0-08 London RESULT
Longford 1-21 1-12 Carlow RESULT
NHL Division Three B
Sligo 2-11 2-12 Donegal RESULT
Roscommon 2-24 0-15 Louth RESULT
Monaghan 2-15 0-17 Mayo RESULT
Tags: