Finn Harps striker, Kevin McHugh, will make his 300th appearance for the club if selected for Saturday night's encounter with Mervue United at Finn Park (kick-off 7.45pm).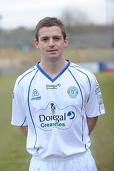 In doing so, McHugh will become only the 9th player in the clubs history to have passed the 300 hundred mark in terms of appearances.
Since making his debut in a 2-0 league cup victory over Fanad United at Triagh-a-locha in August 1998, McHugh has found the net 146 times in his 299 games to date – an average of one goal every two games.
Only the legendary Brendan Bradley has scored more in the blue of Harps. And again, this season, McHugh is again the club's top goalscorer with nine goals.
Harps will be able to call on four new signings for the visit of Mervue on Saturday.
Gary Curran has joined from Galway United, while Mark McGoldrick, Barry O'Mahoney and Kevin Devenney all come to us on loan from Sligo Rovers.
"For once we are spoilt for choice as to who is going to start," said Harps Director of Football Felix Healy. "We have the four new faces and although we will see a couple of them all four will not be in from the start. We had a practice match during the week and had a look at a few things there so we will know come Saturday. Paddy (McLaughlin) is back and Stephen O'Donnell's hamstring is holding up well but he needs matches more than anything."
Before the break, Harps had a confidence boosting 2-0 victory over Wexford Youths at Ferrycarrig Park where Blain Curtis scored the two goals.
"It was an encouraging performance. Wexford had enjoyed a good 1-0 win against Waterford away and it could have been much greater than that margin. They were expecting something from the game with us and were surprised at how it turned out," said Healy.
"Our ball retention mightn't have been as good as it could have been in the second half, but we scored two goals and were only denied a third because of a linesman, so we're getting there."
Harps will have to plan with the suspended duo of Ciaran Coll and Gareth Harkin on Saturday, while Packie Mailey remains sidelined. Stephen O'Donnell is still a doubt with a hamstring complaint.
Suspended: Ciaran Coll, Gareth Harkin.
Doubtful: Stephen O'Donnell (hamstring).
Injured: Packie Mailey (fractured toe).
Form Guide (last six league games)
Finn Harps: W-W-L-L-L-W (9 pts)
Mervue United: L-W-L-L-W-D (7 pts)
~~~~~~~~~~~~~~~~~~~~~~~~~~~~~~~~~~~~~~~~~~~~~~~~~~~~~~~~~~~~~~~
Finn Harps Goalscorers 2011
Kevin McHugh – 9
Blain Curtis – 3
Marc Brolly – 2
Keith Cowan – 1
Gareth Harkin – 1
Finn Harps Results 2011 (Harps goalscorers in brackets)
22nd July 2011 – FD – Wexford Youth 0-2 Finn Harps (Curtis 2)
16th July 2011 – FD – Finn Harps 0-3 Shelbourne
9th July 2011 – FD – Longford Town 2-3 Finn Harps (Cowan, McHugh)
2nd July 2011 – FD – Finn Harps 0-2 Cork City
25th June 2011 – FD – Salthill Devon 0-4 Finn Harps (McHugh 3, Curtis)
11th June 2011 – FD – Finn Harps 1-0 Waterford United (McHugh)
6th June 2011 – FAI – Finn Harps 0-1 Longford Town
3rd June 2011 – FAI – Longford Town 0-0 Finn Harps
30th May 2011 – FD – Monaghan United 1-0 Finn Harps
26th May 2011 – FD – Finn Harps 1-0 Athlone Town (McHugh)
20th May 2011 – FD – Limerick 1-0 Finn Harps
13th May 2011 – FD – Mervue United 2-1 Finn Harps (Brolly)
5th May 2011 – FD – Finn Harps 0-1 Wexford Youths
29th April 2011 – FD – Shelbourne 1-0 Finn Harps
22nd April 2011 – FD – Finn Harps 1-2 Longford Town (Brolly)
19th April 2011 – FD – Athlone Town 1-0 Finn Harps
15th April 2011 – FD – Cork City 5-0 Finn Harps
8th April 2011 – FD – Finn Harps 0-0 Salthill Devon
28th March 2011 – EA – Mervue United 1-0 Finn Harps
25th March 2011 – FD – Waterford United 1-0 Finn Harps
18th March 2011 – FD – Finn Harps 2-2 Monaghan United (McHugh 2)
4th March 2011 – FD – Finn Harps 2-2 Limerick (McHugh, Harkin)
Tags: