Finn Harps will begin the second quarter of the season by hosting First Division title favourites Limerick at Finn Park on Saturday evening (kick-off 7.45pm).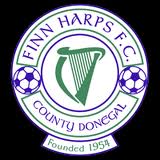 The Shannonsiders currently occupy second spot on the league table and sit three points ahead of Harps in fourth.
Last Saturday, Harps produced one of their best displays of the season by defeating top of the table Longford Town 3-1 at Flancare Park.
Until then, Longford had been unbeaten and had led 1-0 as the game entered the final third. However, after Town keeper Craig Hyland was sent off, Harps made the extra man count and scored three times in the final half an hour.
"There wasn't much in the game for the opening twenty five minutes, then after their goal, which looked well offside, we dominated for the rest of the match", was how Harps Director of Football, Felix Healy, summed up proceedings in Longford.
"Obviously, the sending off helped and we moved the ball about a bit better than we'd done previously against ten men this season."
Harps are now top scorers in the Division, with 13 goals in their seven games thus far. A few weeks ago, Healy was disappointed that Harps weren't putting away the chances they were creating. However, he feels things are improving on the goalscoring front.
"The percentages relating to chances being put away is certainly much improved but we can still do better in that department," he said.
After playing the team at the top of the table last week, Harps will host the team currently occupying second spot on Saturday evening.
"Limerick haven't quite set the division on fire as expected during the opening round of fixtures, however, in my view it'll be an extremely tough game at Finn Park on Saturday night and it should prove a good examination of our own capabilities," is how Healy feels about the upcoming game.
Now that Harps have played everyone in the Division once, how does the Harps Director of Football see the rest of the season panning out.
"The only comment I would make is that the determination of all teams in this division has been first class," said Healy. "Every side we have faced has been up for the game and worked incredibly hard against us and I don't expect that to change much in the coming months."
Harps will again continue without the injured trio of Ciaran Gallagher, Stephen O'Donnell and Keith Cowan. With everyone else available, the Management are unlikely to make many changes to the team that recorded Harps' third league win in succession last weekend in Longford.
~~~~~~~~~~~~~~~~~~~~~~~~~~~~~~~~~~~~~~~~~~~~~~~~~~~~~~~~~~~~~~~
TEAM NEWS
Suspended: None.
Doubtful: None.
Injured: Keith Cowan (double hairline fracture ankle), Stephen O'Donnell (medial ligament), Ciaran Gallagher (hairline fracture skull).
Form Guide (last six league games)
Finn Harps: W-L-L-W-W-W (12 pts)
Limerick: L-W-W-W-L-W (12 pts)
~~~~~~~~~~~~~~~~~~~~~~~~~~~~~~~~~~~~~~~~~~~~~~~~~~~~~~~~~~~~~~~
Last six home games against Limerick
12/10/2007 – Finn Harps 2-0 Limerick 37 (First Division)
08/08/2009 – Finn Harps 1-2 Limerick (First Division)
26/03/2010 – Finn Harps 0-3 Limerick (First Division)
10/09/2010 – Finn Harps 1-1 Limerick (First Division)
04/03/2011 – Finn Harps 2-2 Limerick (First Division)
13/08/2011 – Finn Harps 1-2 Limerick (First Division)
~~~~~~~~~~~~~~~~~~~~~~~~~~~~~~~~~~~~~~~~~~~~~~~~~~~~~~~~~~~~~~~
Finn Harps Goalscorers 2012
Kevin McHugh – 4 (1 in League Cup)
Adam Clarke – 3
Blain Curtis – 2
Paul Simon Tracey – 2
Thomas McMonagle – 1
Thomas McBride – 1
~~~~~~~~~~~~~~~~~~~~~~~~~~~~~~~~~~~~~~~~~~~~~~~~~~~~~~~~~~~~~~~
Finn Harps Results 2012 (Harps goalscorers in brackets)
14/04/2012 – (FD) Longford Town 1-3 Finn Harps (Tracey, McBride, Curtis)
09/04/2012 – (LC) Derry City 4-0 Finn Harps
06/04/2012 – (FD) Finn Harps 3-0 Salthill Devon (Clarke, McHugh, Curtis)
31/03/2012 – (FD) Waterford United 0-2 Finn Harps (Tracey, Waterford o.g.)
26/03/2012 – (LC) Finn Harps 2-0 Mayo League (Mayo o.g., McHugh)
24/03/2012 – (FD) Finn Harps 0-1 Wexford Youths
16/03/2012 – (FD) Athlone Town 2-0 Finn Harps
10/03/2012 – (FD) Finn Harps 4-3 Mervue United (Clarke, McHugh 2, McMonagle)
02/03/2012 – (FD) Limerick 2-1 Finn Harps (Clarke)
Tags: