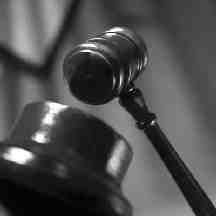 A JUDGE has revoked the bail of a man accused of multiple breaches of barring orders.
Gareth Reid, from Lawnsdale, Ballybofey, appeared at Letterkenny District Court today on several charges relating to alleged in offences in August, October and on Sunday past.
Garda Rory Vaughan told Judge Paul Kelly he wanted Reid's bail revoked because of alleged multiple breaches of the bail conditions.
It is alleged that Reid had phoned a woman and visited her at her work.
"Since the last day (in court) he has breached the conditions of his bail. He has failed to sign on on 9 occasions," said Garda Rory Vaughan.
"The woman has had to leave her home and has eft the county; she is in fear and she has indicated that to gardai on several occasions," added Garda Inspector Goretti Sheridan.
When Reid was charged at Milford Garda Station on Sunday past with the latest alleged breach of a barring order, he made no reply.
Garda Vaughan said that Reid had also failed to make himself available on Sunday from the time of alleged phone calls in the early hours of the morning.
Gardai, he said, had called to Reid's address on three or four occasions and on the last visit were forced to break in the front door of his property to make the arrest.
In relation to some of the charges Reid had denied making phone calls, claiming on two occasions that he was in bed when calls were allegedly made.
He was alleged to have phoned the woman 30 times over one weekend
Judge Paul Kelly remanded 31-year-old Reid in custody, commenting: "He has been given numerous opportunities. He is giving the Gardaí and the courts the runaround."
Tags: