The Donegal Mountain Rescue Team is recruiting again in an ongoing drive to replenish and grow the Team.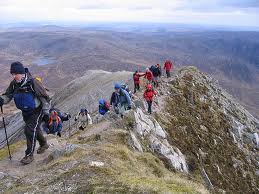 Last February the Team recruited nine new trainee Responders who will go through a personal assessment later this year.
Team PRO Joseph Brennan explains; "That programme is going very well. Of the nine selected eight are still on board and they are proving to be excellent candidates for mountain rescue missions.
"The Team has not really had any significant intake over the last five or six years and a lot of people for work, personal and even health reasons have dropped away. Mountain Rescue is voluntary and as is the nature of voluntary organizations everywhere in society there are ebbs and flows of personnel.
"Thus we felt that with all the systems in place at the moment for training the current batch of new Responders it would be prudent to continue those efforts going forward into 2016."
The public image of Donegal Mountain Rescue Team has increased dramatically in recent years with their involvement in many high profile search and rescue missions throughout the county and indeed further afield when required.

Last weekend a three man unit and a jeep were tasked to an escalated search in the Twelve Bens area of Connemara where an injured man had spent a night on the mountain and fears were great for his survival. Weather conditions were atrocious. Luckily he was found and stretchered off safely the following afternoon in a mission involving over thirty personnel from Teams as far afield as Donegal, Kerry and Wicklow together with the West coast teams.
DMRT are on call 24 hours a day, 365 days a year as a voluntary emergency response team, each as he / she is available within all the other constraints of work and home-life, providing search and rescue in extreme terrain and mountain conditions throughout the entire county, and indeed along our many coastal walks.
The goal is to locate, stabilize and extract individuals in distress. That can mean a hiker on the side of a mountain, a missing child or person in an urban area, an emergency situation that demands medical attention, or just someone stranded in the snow. Mountain rescue is a rich cauldron of activities encompassing specialised training, rescue missions, fundraising, mundane committee duties and even the odd TV appearance for rescue programmes or walking documentaries.
Joseph explains; "More than anything else, it is deeply rewarding when the mission is over and the casualty is safely recovered and reunited with his or her friends and family. On those occasions the ensuing smiles and tears are what make it all so very worthwhile to be an Active Responder with Donegal Mountain Rescue Team".
Looking forward to 2016 he said the Team "find themselves in a good place" having had all of their kit replaced and calibrated over the past twelve months and a new batch of recruits well through their training programme.
The Donegal Mountain Rescue training programme covers four core areas namely, mountain operations, search and rescue operations, casualty care, and operations co-ordination.
There still is a need for more members to cope with the ongoing increase in the number of callouts and current gaps in team member dispersal. They are seeking enthusiastic individuals interested in working as part of the team to achieve high standards of casualty care in Donegal's mountains. At the moment there is a particular dearth of female members.
Ideal candidates will have a strong interest in mountaineering activities; a high level of commitment; be reasonably fit; possess some hill walking/climbing experience; have some navigation and hill skills; as well as a commitment to participating in regular team training and callouts.
Recruitment to the voluntary emergency response team is open to people over 18 years of age, male and female, living within one hour of the county's mountainous areas. For an application pack please send an e-mail to secretary@donegalmrt.ie .
NB: Jump NOW and send that email! The closing date for receipt of applications is Wednesday, September 30.
See us on facebook www.facebook.com/DonegalMRT .
Tags: